'Trumbo' Trailer: Bryan Cranston Gets Blacklisted From Hollywood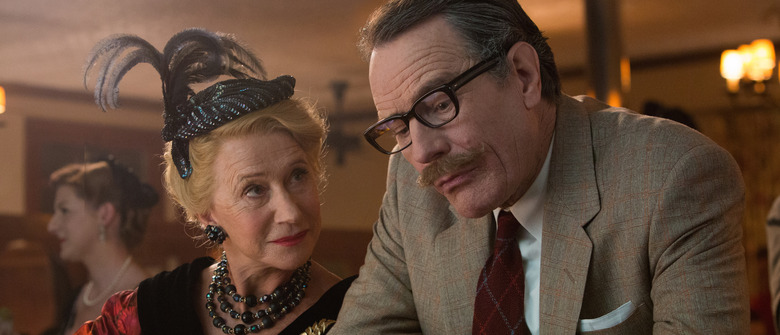 Although Bryan Cranston's been plenty busy over the past few years, he hasn't actually been seen in a lead role onscreen since Breaking Bad. So it's nice to see him take the spotlight again in Trumbo, Jay Roach's drama about Hollywood at the height of anti-Communist fervor.
Cranston plays Spartacus and Roman Holiday screenwriter Dalton Trumbo, who was blacklisted from the industry due to his political beliefs. Helen Mirren, Diane Lane, Louis C.K., Elle Fanning, Michael Stuhlbarg, and John Goodman also star. Watch the Trumbo trailer after the jump.
Fandango premiered the Trumbo trailer on YouTube.
In the '30s and '40s Trumbo was one of Hollywood's most successful screenwriters, penning such works as Thirty Seconds Over Tokyo and A Guy Named Joe, and earning an Oscar nomination for Kitty Foyle. But his career was derailed in the late '40s and '50s when the House of Un-American Activities launched an investigation into the industry, looking to root out Communist sympathizers.
Trumbo actually managed to win two Academy Awards during his blacklisting — one for The Brave One, which he scripted under a pseudonym, and one for Roman Holiday, for which Ian McLellan Hunter served as a front. The blacklist began to crumble in 1960, when Trumbo was publicly credited for his work on Exodus and Spartacus.
Bleecker Street has Trumbo scheduled for release on November 6, 2015, following a TIFF premiere next month.
The successful career of 1940s screenwriter Dalton Trumbo (Bryan Cranston) comes to a crushing end when he and other Hollywood figures are blacklisted for their political beliefs. TRUMBO (directed by Jay Roach) tells the story of his fight against the U.S. government and studio bosses in a war over words and freedom, which entangled everyone in Hollywood from Hedda Hopper (Helen Mirren) and John Wayne to Kirk Douglas and Otto Preminger.