Fox Searchlight Bringing UK TV Series 'Absolutely Fabulous' To The Big Screen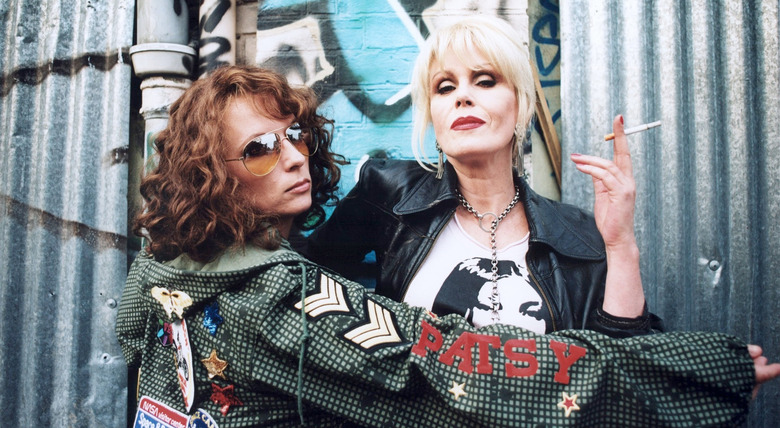 Back in the spring, one of the editions of Sequel Bits brought news that the gestating big screen adaptation of the 90s UK TV series Absolutely Fabulous was finally coming together with an eye towards shooting later this year.
Now that's been confirmed as Fox Searchlight has just come on board to co-produce and co-finance the film with BBC, and they'll also distribute the film worldwide. And yes, Jennifer Saunders and Joanna Lumley will be back in the lead roles as Edina and Patsy.
Deadline has the update on the Absolutely Fabulous movie, based on the comedy series that debuted in 1992 and lasted six seasons, though they were spread our sporadically over the span of 20 years. The first season debuted in 1992 with the second and third in 1994 and 1995. But then the fourth season didn't arrive until 2001, the fifth season in 2003 and the sixth season in 2011.
For those who may not be familiar with the show, it follows Edina Monsoon (Saunders), heavy-drinking, drug-abusing PR agent who spends her time chasing bizarre fads in a desperate attempt to stay young and hip. She's joined by Patsy Stone, her best friend and enabler, whose drug abuse, alcohol consumption, and promiscuity far eclipse Edina's comparatively mild self-destructive behavior.
Edina also finds herself relying on her daughter, Saffron, whose constant care of her mother has left her a bitter cynic. Julia Sawalha played Saffron, and she'll also be back as "the studious, prim and proper yin to her mother's smoking, drinking, endlessly irresponsible yang."
In addition, there will reportedly be plenty of cameos in the movie, which is set to begin production on October 12th with Mandie Fletcher at the helm. She directed a number of the episodes from the television series, so this will be a fun little reunion. Fun fact: Saunders had a $15,000 bet with executive producer Dawn French that the movie wouldn't get off the ground before the end of the year, so it looks like she won if all goes according to plan.
As of now, we don't know what kind of adventure or mishaps Edina and Patsy will be getting into, but since it's been 23 years since the series debuted, and four years since the series returned, surely the aging of the lead characters will become more prominent. Absolutely Fabulous has a huge following in the United Kingdom, but there are plenty of fans in the United States who will be pleased by this news too. We'll keep you posted if there are any major developments down the road.
Are you excited about an Absolutely Fabulous movie?