Disneyland's Star Wars Land Plans Begin To Take Shape Before Expected D23 Expo Announcements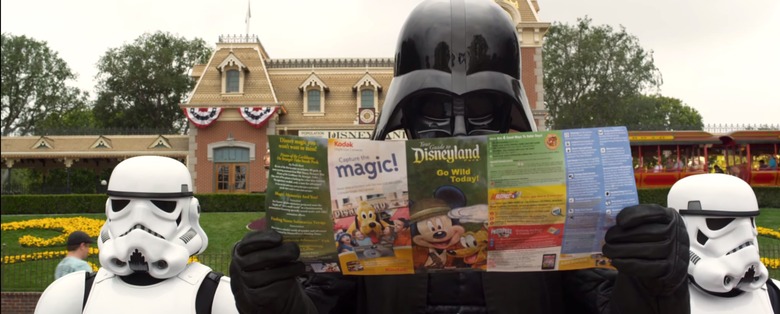 Whats the latest news on a Star Wars land coming to Disneyland? A new report claims that the new Star Wars Land, which will likely be announced at D23 Expo 2015 later this week, will include multiple attractions, anchored by a mega E Ticket ride which will employ "a trackless vehicle that will break the mold when it comes to how theme park visitors interact with a ride environment." More details on the rumored Disneyland Star Wars Land plans after the jump.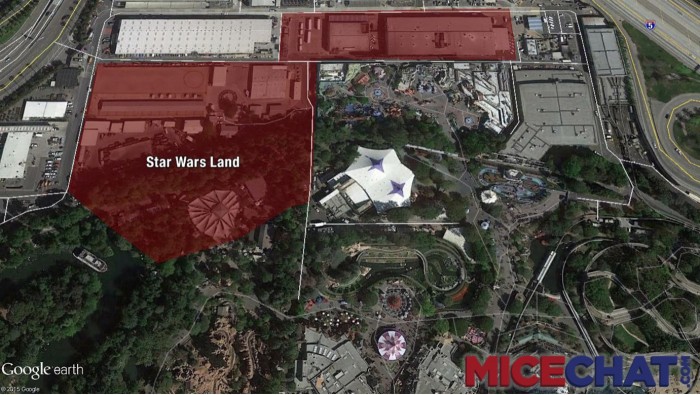 MiceChat, which has been a really good source for Disneyland rumors, has the latest on Disneyland's Star Wars plans. As expected, they are currently looking at the top side of Disneyland for Star Wars Land. Here are the details, though these should be considered rumor for now:
The plan for Star Wars Land has grown immensely in scale, and it's now aimed squarely at the land north of Disneyland itself. Taking over the Festival Arena, the Circle D Ranch, Mickey's Toontown and several rehearsal halls and office buildings just north of Toontown. The Circle D property, where all of the park's horses, goats and other animals are kept will be moving off property to a new facility nearby, and the horses will then be trailered in for their 4 hour shifts pulling the Horse Drawn Streetcars on Main Street.
The rehearsal halls and offices north of Toontown would be moved over to the larger 160,000 square foot office building Disney bought last year at 1515 S. Manchester Avenue, which now houses a dental supply company. That building on Manchester is slated to be phase two of the Pumbaa parking structure, expanding its capacity beyond 8,000+ spaces after the first phase of 5,000 spaces opens in 2018, but in the short term it will become the temporary home of Disneyland's displaced backstage buildings. The smaller building at 1585 S. Manchester will be demolished for the parking structure construction.
According to the report, the rides and shows for the new Star Wars land are being developed in "a top secret Imagineering lab in Glendale with Imagineers signing extra confidentiality agreements because the plotlines and characters are pulled from the next three episodes in the Star Wars saga and the Lucasfilm folks understandably guard that information with their lives."
So we don't have any details on what to expect for the ride, but I have heard that the Legends Of Frontierland experience was a test for their Star Wars plans. Imagineers want to introduce an interactive Cantina experience where your story continues through the rides and throughout the land. Imagine being the rebel spy on Star Tours, later seeing your mug shot on "wanted" signs around Star Tours Land, leading to a possible confrontation with a bounty hunter at the Cantina?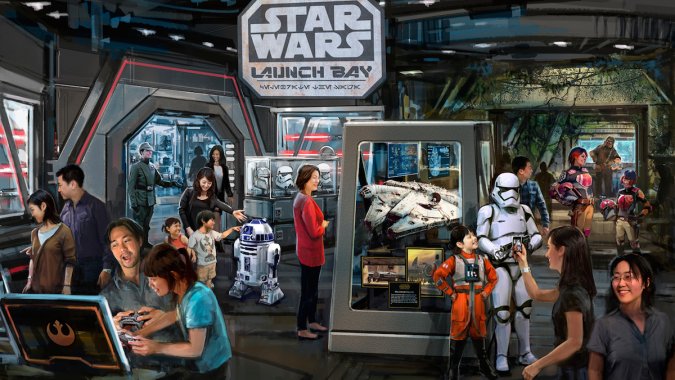 As expected, more Star Wars will be added to Tomorrowland this year, with Innoventions reopening planned to open by Veteran's Day weekend in November with a version of the Star Wars Launch Bay interactive museum which was recently announced for Shanghai Disneyland, plus a specially-produced Star Wars: The Force Awakens movie preview at the Captain EO theater, which will run through January 2016.
No mention in the report, but there have been consistent rumors that Star Tours: The Adventures Continue might add Force Awakens segments to the available trips.
The plan is to keep Star Wars Launch Bay in Innoventions where it will eventually become the official Star Wars Land preview center (much like the Blue Sky Cellar served Cars Land in Disney California Adventure) once construction begins.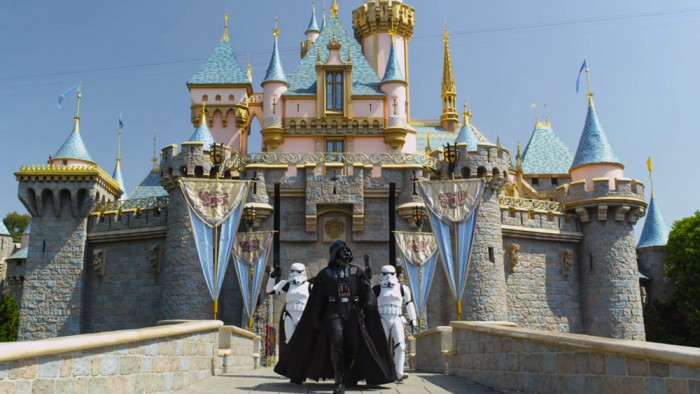 The rumor mill around a Star Wars-themed land in Disneyland has been hot ever since the Mouse purchased Lucasfilm. Imagineering initially planned to revamp Tomorrowland with Star Wars rides and attractions, which was to include a speeder bike ride and Millennium Falcon walk-through meet-and-greet — but those plans were rejected by the Disney board.  Bob Iger has said that the rides and attractions would be based on the new films, and not the original or prequel trilogies — this is one of the reasons the original plans were apparently rejected.
Fans expected Imagineering to announce their Star Wars plans at D23 Expo 2013, but were instead greeted by a tease on the show floor featuring blueprints pouring out of a bunch of crates from a galaxy far far away. Disney head Bob Iger promised that Star Wars theme park news would be coming in 2015.
The recent rumors pegged Star Wars Land to replace Toon Town at the top of Disneyland park. Disney got the city of Anaheim to approve an extension on their no gate tax in exchange for a one billion dollar plus expansion of Disneyland resort, with construction to begin by late 2017 and wrap up no later than December 2024. Recently we learned that Disney purchased two large pieces of land across the street from Disneyland, which is expected to house some backstage buildings that could make way for more land in the current backstage space at the top of the park near Toon Town.
But another report claims the Disney board rejected the Star Wars land plans, just before they were set to be revealed at D23 Expo 2015. This new report suggests that isn't true.