Godzilla 2 Will Be "Bigger" And "Better", Japan's 'Godzilla' Reboot Will Feature Amazing Hybrid Effects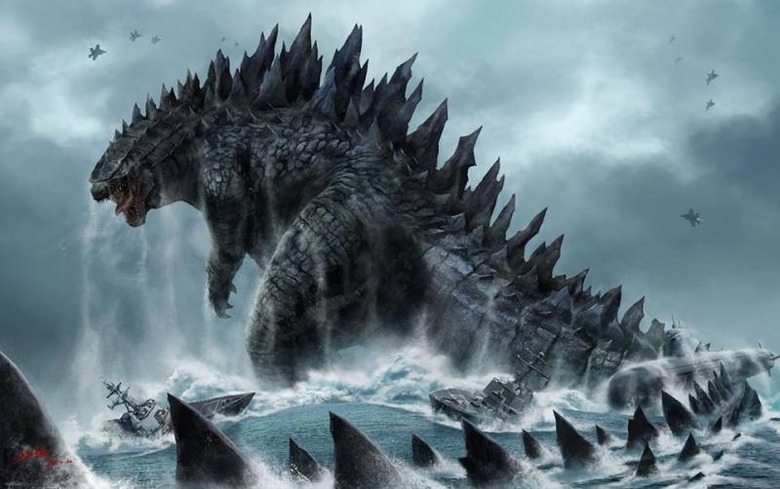 Godzilla scribe Max Borenstein, who was brought back to script Godzilla 2, is speaking out for the first time giving us an idea of what we might expect from the monster sequel — and he's throwing around words like "bigger" and "better". Also we learn the details behind the hybrid visual effects that will make up Toho's Godzilla reboot.
We don't know much about Legendary Pictures' Godzilla sequel. We first learned that Godzilla 2 was in development in May 2014 after the film opened to pretty big box office numbers domestically and internationally. It was announced that Godzilla 2 would hit theaters on June 8, 2018, with the plan for director Gareth Edwards to finish up his Star Wars spinoff, dated for 2016, before jumping into the sequel. At Comic Con last year, Legendary teased some of the monsters we might expect in the Godzilla sequel, which included the giant pteranodon kaiju Rodan, the giant divine moth kaiju Mothra and the three-headed dragon kaiju Ghidorah.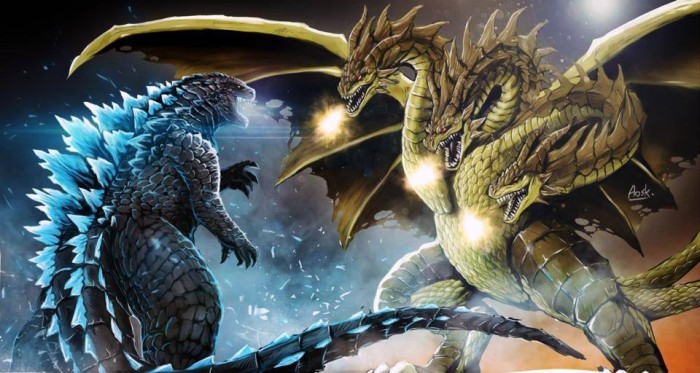 Collider talked to screenwriter Max Borenstein while he was at the TCA's promoting his upcoming series Minority Report and asked the writer if the series would prevent him from writing the monster sequel.
No, I'm doing it. I'm writing it now, and it's really going to be great. I don't want to go off book and tell you anything that I'm not allowed to tell you. The response to the first film was really exciting, but now that that world is established, we can do bigger and even better things. We're really stoked.
Yeah, he doesn't say much. Bigger and better are promisers any fan can get behind. I was actually a fan of the first film and loved the teases of the big green kaiju monster, but it seemed like a lot of the audience was annoyed they didn't get more than eight minutes of screen time from Godzilla.
As for Gareth Edwards, Max admits he's "a little preoccupied" making a Star Wars film right now but that its "exciting to get to work with him again." I'm a little worried that the two year gap between Star Wars: Rogue One and Godzilla 2's releases won't be enough time to complete a special effects filled blockbuster sequel — but it has been done many times before.
But what about the Japanese Godzilla movie currently in the works? In April, Toho revealed that filmmakers Hideaki Anno and Shinji Higuchi, best known for their work on Neon Genesis Evangelion and the upcoming live-action Attack on Titan movie, will co-direct the 29th Godzilla movie with Anno scripting and Higuchi set to supervise the special effects.
A new ABC News article (found via i09) describes some of the new "hybrid" special effects techniques being used in the new Toho Godzilla reboot:
Higuchi's special-effects techniques were amply demonstrated in "Attack on Titan," a new release received favorably in Japan. The work combines computer graphics with manipulating a towering doll of rippling red muscle that resembles a giant biological anatomy chart, as well as special-effects filmmaking, using actors moving through miniatures, to depict grotesquely enlarged humans. Applying to Godzilla that kind of technology, which Higuchi calls "hybrid," has never been attempted in Japan. Higuchi is promising just that.
Higuchi promises his Godzilla movie will lose the excess that he says killed the franchise:
Godzilla had to deliver more and more, responding to calls from the audience, as well as creators. Godzilla went through these stages, resetting itself, developing and then succumbing to exhaustion, until it just got so big it had to stop.
I'm excited to see what Higuchi's Godzilla movie will look like. Principal photography is expected to start in September in Tokyo.