'Howard The Duck' Gets A Marvel Studios Trailer Remix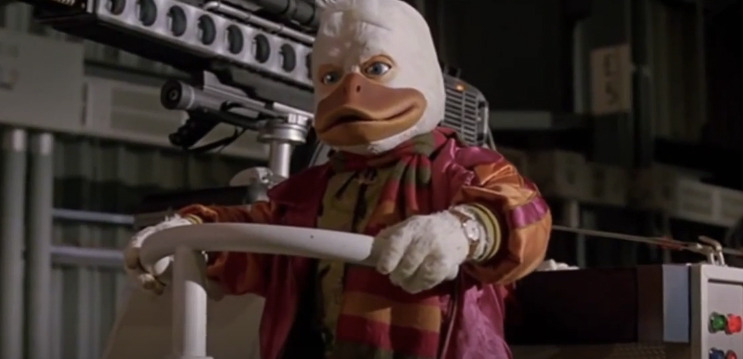 Even though X-Men from the year 2000 may have been the first Marvel Comics film that truly launched the comic book movie boom that hasn't stopped in 15 years (and is showing no signs of slowing down), the very first theatrical movie based on a Marvel comic was Howard the Duck in 1986. Sadly, and hilariously, it was an absolute disaster.
But ever since Marvel Studios revived the character for a credits scene appearance in Guardians of the Galaxy, there's been a resurgence of interest in the wise-cracking, anthropomorphic duck named Howard. And that's mainly because fans think that Marvel Studios can do the character justice on the big screen now, not unlike Rocket Raccoon.
And now a new trailer remix gives Howard the Duck the Marvel cinematic universe treatment by blending footage from the original movie with Marvel Studios movies, imagining a big screen reboot in today's world. Watch the Howard the Duck trailer remix now!
Here's New York Magazine's latest Vulture Remix for Howard the Duck:
The latest trailer remix comes from Louis Plamondon, aka Sleepy Skunk, the same editor behind the 1995 VHS trailer for The Avengers: Age of Ultron that we posted back in April. And even though it uses footage from the old Howard the Duck movie, the right spirit for a reboot to work is there.
In a world where Guardians of the Galaxy was a hit and fans of all ages absolutely love characters like Rocket Raccoon and Groot, there's no better time to reboot Howard the Duck, especially with the kind of roll that Marvel Studios is on. After all, the character got the perfect introduction in the aforementioned credits scene that fans get excited to see after each Marvel movie, so we know he's in the Marvel cinematic universe doing something.
However, since Marvel Studios has their schedule pretty well booked through 2019, with a whole slew of new characters like Captain Marvel, Doctor Strange and Black Panther making their big screen debut, I wouldn't count on a new Howard the Duck movie being a priority for them anytime soon.
Despite the slight outpouring of interest online, it may not be a good idea to make a whole movie around the character again. But more possible and less risky would be having Howard the Duck make an appearance in Guardians of the Galaxy: Volume 2, arriving on May 5th, 2017. Maybe he has a run-in with Rocket Raccoon at some point? We'll have to wait and see.