Stephen Colbert: "I'm Looking Forward To Being Sincerely Interested" In Show Guests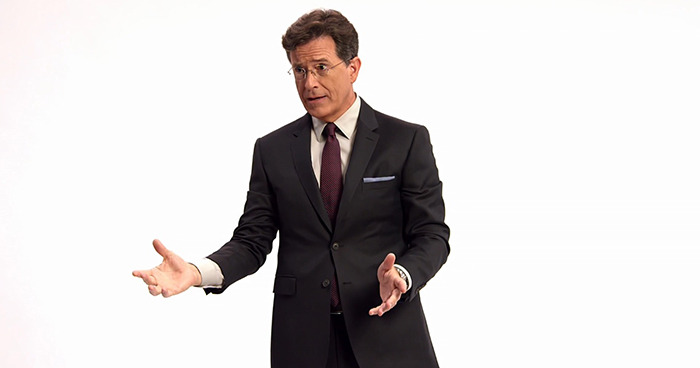 CBS closed its day of Television Critics Association panels with Stephen Colbert discussing taking over as host of The Late Show. As soon as he was hired, Colbert stated he would retire the "Stephen Colbert" character of The Colbert Report. Today we got an example of what the real Stephen Colbert will be like, and the biggest difference might be when he's interviewing guests.
"In the old show, I wore the character as lightly as a hat dependent on who I was talking to," Colbert said. "I'm very interested in my guests and I'm looking forward to being sincerely interested in what they have to say without having to translate it to an idiot's mouth. If that leads to some serious conversations I'd be happy. We had them before on the last show and the audience came with us. I don't see why I should stop."
Having political guests on The Colbert Report, Colbert would relentlessly interrogate them with right-wing talking points. It appeared effortless, but it was exhausting.
"Not having to run everything through the bible in my head is lovely," Colbert said. "I used to be exhausted at the end of every interview from going through the maze in his head before I said anything, fast enough so the audience couldn't tell. Doing it myself was hard the first time, but I'm not tired at the end."
However, not everything on The Colbert Report was an act. Colbert continued, "Not to get too erudite right now, but Oscar Wilde said, "you wanna see someone's real face, give 'em a mask.' I had the excuse that I didn't mean it, but I meant a lot of it. I even agreed with my character sometimes. My hope is when you see me on the new show you'll go, 'Oh wow, a lot of that was him the whole time.' I don't know how much until I go do it."
Colbert also gave us an update on the remodeling of The Ed Sullivan Theater, where David Letterman did The Late Show since 1993.
"This past week we moved into the offices above the Ed Sullivan Theater," Colbert said. "Our set is being built right now at the Ed Sullivan Theater. It's been a two and a half month process so far. The theater has been completely gutted. You'll probably recognize the stonework on the proscenium but it's been taken back to its 1927 beautiful state. Right now we're building The Late Show set in the context of a Broadway theater. You couldn't tell it was a theater and now you can. I find it a very intimate space now because we're acknowledging we're in a theater together."
Letterman himself even took some time during his final shows to talk Colbert through the job. "I went to Dave," Colbert said. "About 10 days before Dave went off the air, I asked if I could hang out with him. He was really gracious. We spent an hour and a half together, had a couple bottles of water, did the hard stuff. 2 hydrogen, one oxygen. He said, 'No one's ever asked me these questions. Who would know to ask and who would care what the answer was?' That felt great and that was a very gracious way for him to say only the person sitting behind that chair cares about the conversation we're having.
For an hour we talked about how we approach [the production], where we put the producers. One reason I moved the desk to the other side of the stage is because I asked if there's anything he'd change. He said, 'I'd like to try the desk on the other side.' The next day I called my designer, 'I have terrible news. Reverse the set because I'm going to try that too.'"
***
The Late Show with Stephen Colbert premieres September 8 at 11:35 on CBS.