Zac Efron Will Hit The Beach With Dwayne Johnson In 'Baywatch'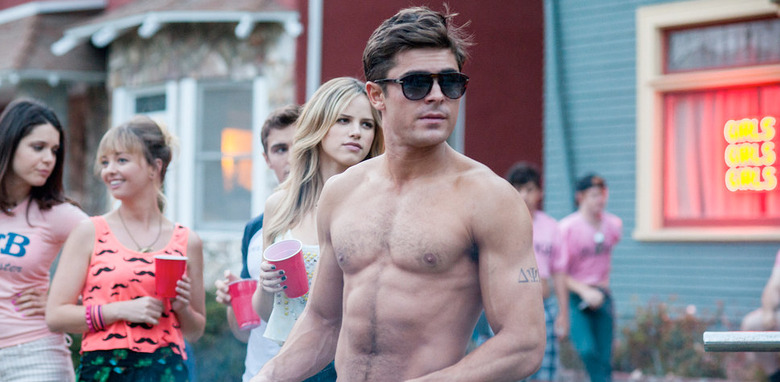 It's been 26 years since David Hasselhoff and Pamela Anderson first hit the beach in the television series Baywatch, and that means it's the perfect time for Hollywood to recycle it in the form of a big screen adaptation.
Dwayne Johnson is set to star in a raunchy, comedic take on the '90s series with Horrible Bosses director Seth Gordon at the helm. And now Neighbors star Zac Efron will likely also throw on some swimming trunks ad take his shirt off for the adaptation. Find out more about Zac Efron joining Baywatch after the jump!THR reports Efron is now in talks to co-star in the movie with production looking to begin in early 2016, probably around February. The story is said to follow a by-the-book and very serious lifeguard (Johnson) who is forced to team up with a young rule-flouting hothead (Efron) in order to save their beach from environmental destruction at the hands of an oil tycoon. It definitely has flare of 21 Jump Street, which is just fine with me.
Efron is definitely on a roll when it comes to R-rated comedies, just wrapping production on Mike and Dave Need Wedding Dates with Adam DeVine, Anna Kendrick and Aubrey Plaza. He also has Dirty Grandpa with Robert De Niro right along with a sequel to last year's comedy hit Neighbors with Seth Rogen, Rose Byrne and new cast member Chloe Grace Moretz just joining the insanity. In fact, all three of those movies are being released in 2016, so Efron will be all over the place.
The teaming of Johnson and Efron will likely make for big box office draw as each has their own group of fans, but more importantly, these two have proven to be solid comedic entities in the past few years. Johnson isn't just an action star, but also a charismatic actor with surprisingly good comedic timing. And Efron has recently proven that he can hold his own in comedy after Neighbors last year.
Plus, when you take into account the fact that they'll both be spending plenty of time with their shirts off, the movie has plenty of sex appeal, which is what drove people to watch Baywatch to begin with. David Hasselhoff and Pamela Anderson became pop culture icons of sorts because of that show (which was seen in 148 countries, because sex appeal is universal), and slow-motion beach running became the butt of many jokes because of them.
If Baywatch can find the right blend of action and comedy like the 21 Jump Street franchise, then this could be a lot of fun on the big screen. So let's hope the script, with the most recent draft coming from Damian Shannon and Mark Swift (both of the 2009 reboot of Friday the 13th and Freddy vs. Jason), packs a strong comedy punch.
Do you like the idea of Dwayne Johnson and Zac Efron teaming up?