Netflix Renews 'Sense8' For A Second Season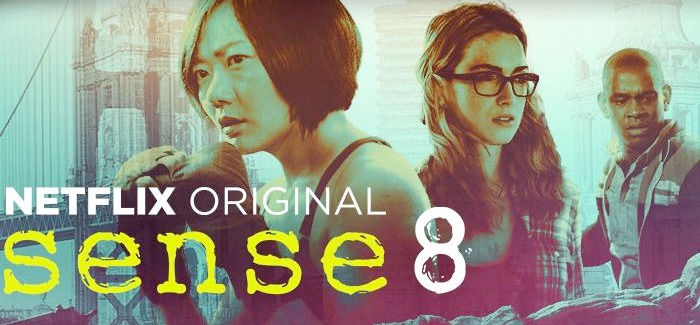 Following the debut of the first season a couple months ago, Netflix has renewed the sci-fi series Sense8 from Andy & Lana Wachowski for a second season.
The news came on August 8th, which just happens to coincide with the birth date of the show's eight Sensates, human beings who are mentally and emotionally connected, able to communicate, sense, and use each other's knowledge, language and skills. After the jump, watch the candid announcement video revealed by Netflix this weekend to tell fans about Sense8 season two.
Here's the announcement video straight from Netflix's Twitter:
Birthdays are just the beginning. #sense8 is reborn.https://t.co/tmMV66gKhm

— Netflix (@netflix) August 8, 2015
The entire first season was made available to binge on Netflix on June 5th, and it sounds like the streaming service was impressed enough with its performance to keep the show going. For those who haven't watched Sense8 or maybe don't know what it's about, you can watch the trailer over here. Otherwise, here's the official synopsis:
Eight strangers around the globe find themselves connected — first by a violent vision, then by their shared ability to connect with one another's thoughts and actions, and finally by the urgent need to find out what happened and why. Their need to know goes beyond simple curiosity — as they pursue answers, a mysterious organization hunts them down, intent on destroying them.
The intense thriller is the first foray into television (or, more accurately, Netflix) for renowned filmmakers Lana Wachowski and Andy Wachowski (The Matrix Reloaded), who created the series with J. Michael Straczynski (Thor). The international cast includes Brian J. Smith, Tuppence Middleton, Jamie Clayton, Miguel Angel Silvestre, Tina Desai, Doona Bae, Aml Ameen and Max Riemelt. Also, Daryl Hannah, Naveen Andrews, Terrence Mann, Freema Agyeman, Alfonso Herrera, Erendira Ibarra, Adam Shapiro, Ness Bautista and Joe Pantoliano.
The show has been praised as being very progressive for the trans community as it features a trans character without having the story focus on the transitioning of the character. She's merely a character who exists in the narrative. As trans actress Jamie Clayton said at the TCA press tour recently (via THR), "Nomi's story has nothing to do with the fact that she's trans. She just is, and she's living her life ... as a whole, complete person and no one cares that she's trans — and they shouldn't because she's a human being."
Furthermore, this is the first time a trans character has been directed by a trans filmmaker as Lana Wachowski is also a trans woman. Clayton was also very pleased with that aspect of her involvement with Sense8, saying, "I knew in my gut that if I was ever to have an opportunity this big in Hollywood that it was going to be Lana who was going to do it — and, man, did she frickin' do it."
Sense8 is available to watch on Netflix right now.