'Fathers And Daughters' Trailer: Amanda Seyfried Can't Outgrow Her Tough Childhood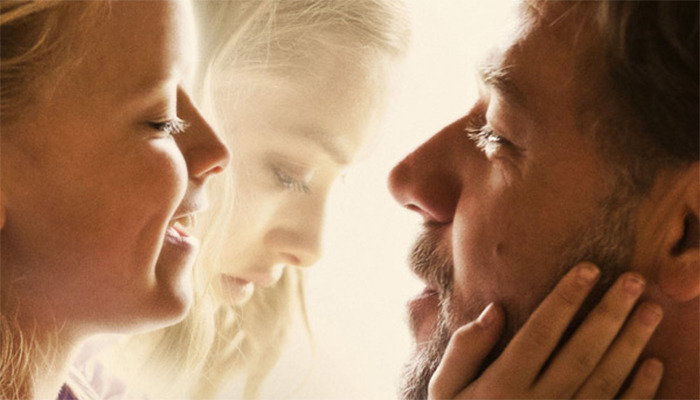 We've got two trailers that show off the film Fathers And Daughters from Seven Pounds and The Pursuit of Happiness director Gabriele Muccino: a quick trailer from Japan, and a much longer (but not necessarily better) international trailer with more footage. The family drama stars Russell Crowe as a widower father, and Amanda Seyfried as his daughter whose early years left her less than capable of forging healthy relationships.
The supporting cast here is notable, too, with Aaron Paul, Bruce Greenwood, Diane Kruger, Jane Fonda, Janet McTeer, Octavia Spencer, Quvenzhané Wallis, and Kylie Rogers on hand to help move things along — see some of them at work in the main Fathers and Daughters trailer below.
This looks like some old-school Lifetime movie material, even with the top-flight cast. Maybe the movie is far less emotionally overhearing than this trailer makes it out to be, but if that's the case this footage edit is doing it a tremendous disservice. Because this saccharine, overwrought thing looks like quite a slog to get through.
But it's genius compared to the Japanese trailer, which starts off looking a whole lot better... at least until the chintzy cover of the Carpenters' 'Close to You' kicks in, at which point it takes a dive into unintentional hilarity.
Fathers and Daughters doesn't have a US release set yet, but it will have an international release later this year. Trailer via Voltage.
Jake Davis, a Pulitzer-winning novelist, finds himself fighting against the world when a fatal car accident leaves him to raise his 5-year-old daughter, Katie, all on his own. Overcome with guilt from the loss of his wife, he struggles with the daily routine of raising a child compounded by his overbearing relatives intent on taking her away from him. As the narrative weaves back and forth between the 1980s, and present day, we come to learn how 30-year-old Katie battles the demons that stemmed from her troubled childhood and simultaneously watch how Jake fights to hold on to the thing he loves most — his daughter, at the cost of his fortune, sanity, and ultimately even his own life.