Mondo's 'Mad Max: Fury Road' Posters Available In Consumer-Friendly Timed Edition

The poster and collectibles company Mondo has just begun shipping the LP pressing of the Mad Max: Fury Road soundtrack, but if you missed out on that order there are yet more Mondo Mad Max offerings.
The company revealed three posters, two by portrait artist Mike Mitchell and one by Ken Taylor, featuring the characters from George Miller's action blast. Even better, these are timed releases rather than strictly limited-edition prints, meaning that they'll be printed based on the number of orders collected during a window of time — no lightning-quick web shop reflexes needed for these!
Check out all the Fury Road Mondo images below.
Collider has these images, which capture Miller's characters in very different ways. The first two, from Mike Mitchell, employ Mitchell's signature style to capture the intensity of Max and Immortan Joe, and to make the vague visual similarities between the characters impossible to ignore.
Max Rockatansky and Immortan Joe
Artist: Mike Mitchell
Size: 12"x16"
Price: $55 each
Purchase as a set for $100
Then there's the more epic poster from Ken Taylor, which captures some of the scope of Miller's action staging.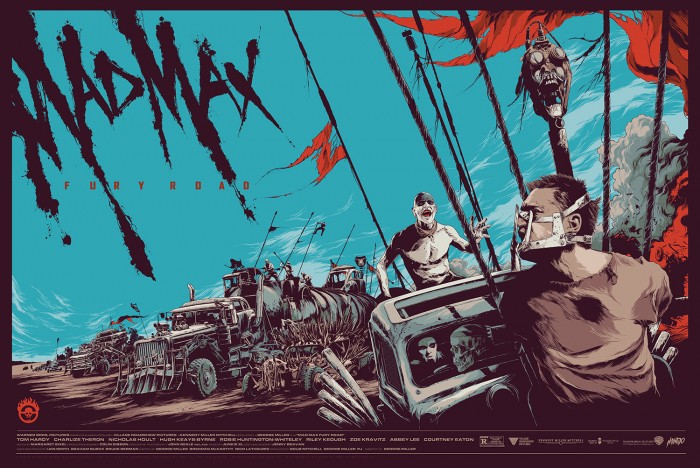 Mad Max: Fury Road
Artist: Ken Taylor
Size: 36"x24"
Price: $55
All three Mad Max: Fury Road Mondo prints will be sold in a 72-hour timed edition. Starting at 12:00AM CST on Tuesday, August 11 and going until 11:59PM CST on Thursday, August 13, these prints will be on sale via the Mondo web shop. There aren't even one-per-household limitations.
***
And while we're on the topic of timed release Fury Road posters, this next image isn't a Mondo offering, and it is one we've highlighted before. But this timed edition from Scott C is still on sale for a few more hours at his web shop. So take in the friendly/serious showdown in this 24x12" archival giclee art print.