Waiting For 'Space Jam 2'? Here's Marvin The Martian Vs Blake Griffin In A Dunk Contest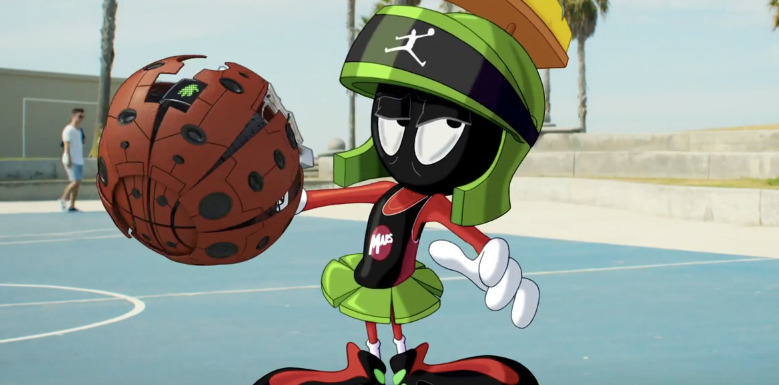 Last year brought rumblings of LeBron James being sought for Space Jam 2, but they turned out to just be rumors. This year, however, speculation has grown about the basketball star stepping into the world of Looney Tunes after signing a new deal with Warner Bros. for future film and television projects.
But even though new trademarks for Space Jam were filed last month, there's no guarantee it will happen at all. In the meantime though, basketball star Blake Griffin had some fun with the Looney Tunes, specifically Marvin the Martian, in a new commercial that has the two facing off on a slam dunk contest. It's as close as we can get to a Space Jam 2 right now. Watch the Blake Griffin Marvin the Martian match-up after the jump!
Here's the Nike commercial with Blake Griffin and Marvin the Martian (via Cartoon Brew):
The blending of live-action and animation has gotten much better since Space Jam debuted in 1996, nearly 20 years ago, but this is purely a commercial for Nike tennis shoes, so it's hard to get too excited by the content on display here. But at the very least, this goes to show you that Warner Bros. is still having fun bringing famous athletes in to play around with their iconic animated characters.
Now that LeBron James has proven he can do comedy with some of the best in the business with a key supporting role in Judd Apatow's movie Trainwreck alongside Bill Hader and Amy Schumer, it's the perfect time to make it happen. There will always be the endless fight as to whether or not LeBron is as good as Jordan, but that shouldn't stop him from following in his footsteps and making Space Jam 2 a possibility for a new generation of basketball and cartoon fans.
Having someone like Blake Griffin, who isn't bad in front of the camera either, wouldn't be a bad addition in a supporting role. After all, the rest of the basketball stars in Space Jam were positively terrible actors. Come to think of it, even though Michael Jordan had a lot of fun in the movie, he wasn't that great of an actor in it either. So LeBron James might actually get a chance to be better than Jordan at something other than basketball.
For those curious, the commercial was directed by Spike Brandt from Warner Bros. Animation with the animation being done by a veteran crew that includes Dale Baer, Dan Haskett, John McClenahan, Jeff Siergey, Neal Sternecky, Bill Waldman and Dean Wellins. If there ever is a Space Jam 2, hopefully these animators are brought in for it.