'Empire' Season Two Trailer: Terrence Howard Isn't Going Down Without A Fight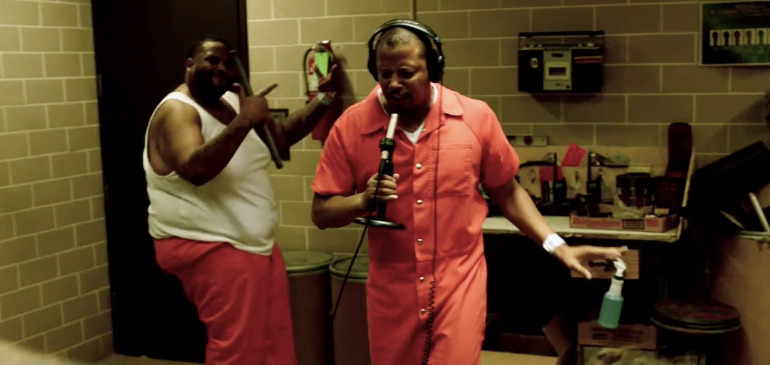 As summer winds down, the blockbuster season is ending, but when fall rolls around, some of your favorite shows will be coming to television, including the runaway hit Empire on Fox. And if you've been wondering what to expect from the second season of the show that's been upgraded to a fall season premiere after debuting mid-season earlier this year, the first trailer has just arrived.
In the trailer, we see Lucious Lyon (Terrence Howard) in jail after the events of last season brought him there, and now Andre (Trai Byers) and his mother Cookie (Taraji P. Henson) are determined to remove him as CEO of Empire Entertainment. There's also glimpses of guest stars Chris Rock and Marisa Tomei teased. Watch the Empire season two trailer after the jump!
Here's the second season trailer straight from Fox:
Since this is Lucious Lyons we're talking about, there's no way he's giving up Empire Entertainment without a fight, leaving his middle son, Jamal (Jussie Smollett), in charge of the company, which really amps up the tension between he and his brother Hakeem (Bryshere Y. Gray). There's plenty of drama in store this season for sure.
As for what we can expect from guest star Chris Rock, he's playing one of Lucious' prison inmates, someone with ties to the mogul's past. Meanwhile, Tomei is playing Mimi Whiteman, a demanding venture capitalist who becomes involved in Lyon family drama and as you can see, quickly chooses a side. Whiteman is a Forbes billionaire, lover of hip-hop, high-end fashion and beautiful women. Both characters should shake things up quite a bit.
In addition, the rest of the season is supposed to feature appearances by Alicia Keys and Lenny Kravitz, but showrunner Ilene Chaiken doesn't want to start stunt-casting tons of guest stars just because they can, "To make sure that Empire continues to be about this family and these relationships and not to loose sight of that in the midst of all of the fabulous opportunities to bring great guest stars onto this show, which we are going to do, but Empire is the Lyons."
Chaiken also adds, "If season one was [about] who will inherit the throne, season two is warring kingdoms." That's a pretty nice tease for the new season, which will have 18 episodes, six more than the first season. Thankfully, this second season is split in two, so the crew will have time to get their ducks in a row. Chaiken told THR:
I believe there are endless stories in this universe. We just had to take a deep breath and dive down to do our 18 episodes but we're confident that we're going to deliver every single episode with the same level of quality, with the same number of musical moments as we did in season one."
After a record-breaking first season, "Empire" returns as the number one series on broadcast television. A drama about a family dynasty, set within the world of music, glamour, danger and power, "Empire" shattered ratings records every week in its debut season and spawned hit records "Drip Drop" and "You're So Beautiful."
From Imagine Television in association with 20th Century Fox Television, "Empire" was created by Academy Award nominee Lee Daniels and Emmy Award winner Danny Strong, and is executive-produced by Daniels, Strong, Academy Award- and Emmy Award-winning producer Brian Grazer, Ilene Chaiken and Francie Calfo.
Empire returns for season two on September 23rd on Fox.