Jon Voyage: Jon Stewart's Final 'Daily Show' Comes With Lots Of Tears And Guest Stars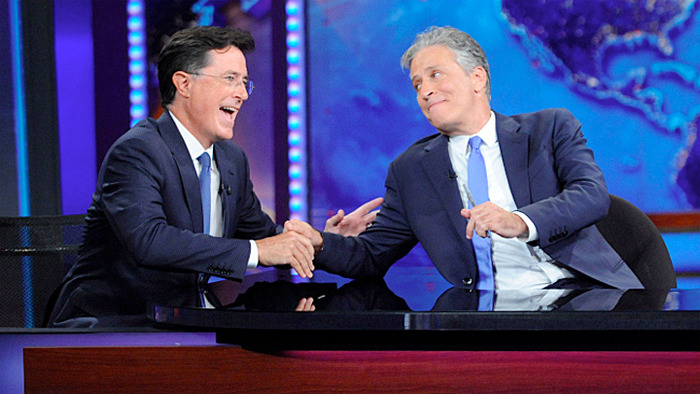 Jon Stewart hosted his final episode of The Daily Show on Comedy Central, a show that he's been writing, producing and hosting for 16 years and nearly 2,600 episodes. To say farewell to Stewart, or #JonVoyage as Comedy Central has dubbed the goodbye on social media, a cavalcade of guest stars, from former correspondents to Martin Scorsese to Bill O'Reilly to Bruce Springsteen, all came to say goodbye. And yes, there's a bunch of crying too.
Below we highlight the extended farewell episode of The Daily Show, which is available in its entirety online for those of you who missed it last night. Watch Jon Stewart's final Daily Show episode after the jump!
Things kicked off with all The Daily Show correspondents Jessica Williams, Hasan Minaj and Jordan Klepper getting help from some of the more senior contributors from over the years, including Aasif Mandvi, Al Madrigal, John Hodgman, Lewis Black, Kristen Schaal and Samantha Bee. But let's not forget other correspondents from the past such as Steve Carell, Rob Corddry and Ed Helms. They all stopped in to deliver some kind words to Stewart:
But not all the send-offs were as heartfelt as some of Jon Stewart's biggest targets from over the years chimed in to get the final word in arguments that have been going on with the comedian for a long time:
And after Stewart was playfully reamed, we came back to a much more touching goodbye from none other than Stephen Colbert. After being a correspondent on The Daily Show, the comedian went on to host his own show to follow Stewart, a parody of right-wing punditry and news media in general that quickly distinguished itself as an equally powerful and original voice in satire. There would be no The Colbert Report if it wasn't for Jon Stewart, so this one is tough to sit through without getting the tears flowing:
It's worth pulling out this bit, because it's just so damn touching:
"You said to me and to many other people here years ago, never to thank you because we owe you nothing. It is one of the few times I've known you to be dead wrong. We owe you, and not just for what you did for our careers ... we owe you because we learned from you.
You were infuriatingly good at your job, OK? All of us who were lucky enough to work with you for 16 years are better at our jobs because we got to watch you do yours — and we are better people for having known you."
There are plenty of viewers out there who would agree with that wholeheartedly after watching the show all these years. Speaking of which, there's a whole lot of people who make this show possible besides Jon Stewart, and thankfully this final episode took the time to go behind the scenes of the entire office and studio to give credit where its due:
And finally, it was time for the man himself to say his goodbyes, but first he had some choice words to say about bullshit, specifically, how there are three different kinds of bullshit:
Since it's been a few minutes between crying at this point, it's time to get the tears flowing again when Stewart officially signs off from The Daily Show one last time, unable to hold back the emotion that millions were feeling along with him:
Stewart says, "Rather than saying goodbye or good night, I'm just going to say, 'I'm gonna go get a drink,' and I'm sure I'll see you guys before I leave." And now we're just stuck waiting at the bar.
Regardless of your political leanings, you can't deny that Jon Stewart has been a powerful, influential force in comedy, politics and media. From bolstering the careers of plenty of huge comedy stars that we see all over movies and television today, to giving a straight-shooting opinion on the day's headlines, to skewering the endless drivel spouted through 24-hour cable news, Stewart has made quite an impact.
Does Stewart have major liberal leanings? Absolutely. But you can't deny that he's always been honest and straightforward when it comes to telling people how he feels about today's political and social climate. Whether you agree with the opinions of Stewart and his entire staff, you have to admit that seeing the barrage of celebrities, politicians, filmmakers, pundits and more is more than enough evidence that what Stewart did was important, even when it pissed people off, and he will be missed.