VOTD: What If Werner Herzog Directed 'Ant-Man'?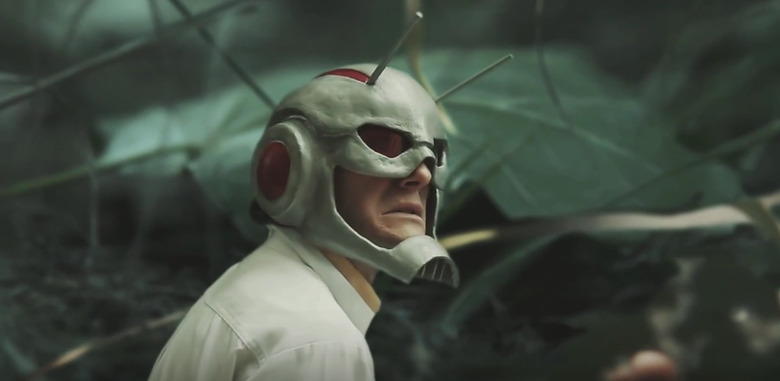 With the release of Ant-Man earlier this month, we're officially done with releases from Marvel Studios for 2015. Despite the trouble behind the scenes before the film started shooting, with Peyton Reed replacing Edgar Wright as director, it actually turned out to be a pretty decent comic book flick.
But one fan thinks that movie could have been infinitely better if famed documentarian and Jack Reacher villain Werner Herzog was behind the camera instead. Patrick H. Willems, the man behind Wes Anderson's Uncanny X-Men, has put together a trailer showing us what it might be like if Herzog directed Ant-Man, and things definitely get existential. Watch the Werner Herzog Ant-Man trailer after the jump!
Here's Werner Herzog's Ant-Man (via THR):
Instead of getting a heist movie and the usual face-off between a hero and villain with similar superpowers (something that Game of Thrones author George R.R. Martin is getting sick of), we get a movie about Scott Lang (Jacob Torpey), stuck in his tiny form, forced to walk through nature at ground level. Scott Lang is a man who comes to live the realization of what we all know, "deep down as homo-sapiens...we are small."
This is all in good fun, but one does wonder from time to time just what a Marvel blockbuster would be like in the hands of auteur directors like this. In some parallel universe there have been Marvel movies directed by Werner Herzog or Star Wars movies by Paul Thomas Anderson, and it's a shame that we'll never get to see them.
The creator of this video seems to have an invested interest in Ant-Man, because Willems is also the guy responsible for delivering an alternate cut of the first Ant-Man teaser trailer. While many thought that it was too somber and serious, Willems made some cuts and music changes and made it look as fun as the final cut of the movie ended up being. You can still watch that right here.
In the meantime, if you've already had a chance to catch Ant-Man in theaters, be sure to check out our easter eggs from the Marvel Studios release, and also take a closer look at the credits scenes from the movie that tease future installments of both Ant-Man and a story point from Captain America: Civil War that will involve the tiny superhero. And as always stay tuned for more coverage of the Marvel cinematic universe on the way.