'Steve Jobs' TV Spot: The Apple Co-Founder's Greatest Invention Is Himself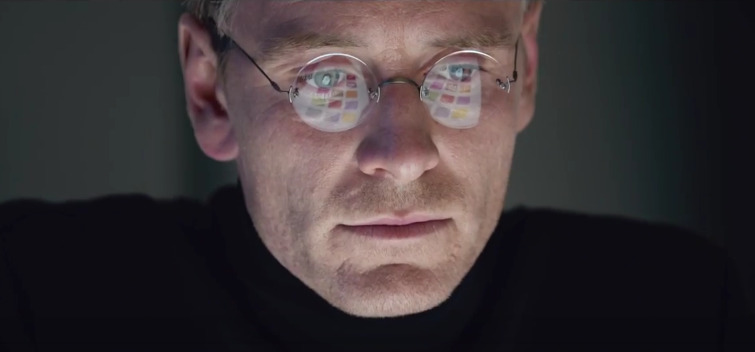 As summer winds down, we're starting to see glimpses of the movies that will be vying for Golden Globes and Oscars this fall and winter, and one of them is undoubtedly Steve Jobs, which just debuted a new extended TV spot.
The biopic from director Danny Boyle (Slumdog Millionaire, 127 Hours) and writer Aaron Sorkin (The Social Network) stars Michael Fassbender as Steve Jobs, the co-founder of Apple, and goes behind the scenes of how his life's struggles drove his ambition to make Apple something to be proud of, even to the point of ignoring his own daughter, choosing instead to raise technology as his own. Watch the Steve Jobs TV spot after the jump!
Here's the extended TV spot from Universal Pictures:
Aaron Sorkin seems to have delivered another powerful examination of Steve Jobs, a man who became one of the most influential innovators of our time, even if it's posited that maybe the Steve Jobs we all knew was just the creation of someone with endless drive and ambition to make his mark, regardless of who he knocked down on the way.
Aside from the three product launches said to be the driving force of the movie, there also seems to be a lot of focus on Steve Jobs as an estranged father. And then there's also the side of Jobs who was so hellbent on inventing the future that he didn't want to listen to anyone, making no room for compromise, for better or worse. Count on this to be a big player during awards season.
If you want to see more, watch the full theatrical trailer right here.
Set backstage at three iconic product launches and ending in 1998 with the unveiling of the iMac, STEVE JOBS takes us behind the scenes of the digital revolution to paint an intimate portrait of the brilliant man at its epicenter.
STEVE JOBS is directed by Academy Award® winner Danny Boyle and written by Academy Award® winner Aaron Sorkin, working from Walter Isaacson's best-selling biography of the Apple founder.  The producers are Mark Gordon, Guymon Casady of Film 360, Scott Rudin and Academy Award® winner Christian Colson.
Michael Fassbender plays Steve Jobs, the pioneering founder of Apple, with Academy Award®-winning actress Kate Winslet starring as Joanna Hoffman, former marketing chief of Macintosh.  Steve Wozniak, who co-founded Apple, is played by Seth Rogen, and Jeff Daniels stars as former Apple CEO John Sculley.  The film also stars Katherine Waterston as Chrisann Brennan, Jobs' ex-girlfriend, and Michael Stuhlbarg as Andy Hertzfeld, one of the original members of the Apple Macintosh development team.
Steve Jobs hits theaters this fall on October 9th.