'The Last Witch Hunter' Trailer: Vin Diesel Ain't Afraid Of No Witches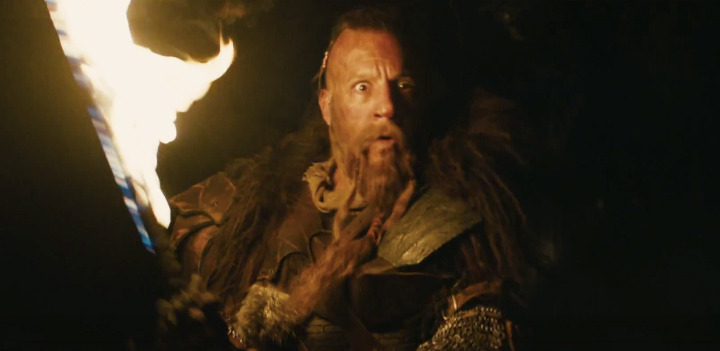 While fans are waiting for Vin Diesel to get back behind the wheel for Fast and Furious 8, maybe they wouldn't mind seeing him take on the supernatural in The Last Witch Hunter this fall.
In the Lionsgate and Summit Entertainment production, Diesel plays Kaulder, a witch hunter cursed with immortality who suddenly finds himself as the key to saving the modern-day human race from a legion of creatures attempting to unleash Black Death upon the world. And now a new trailer shows us just what kind of threats he's up against. Watch The Last Witch Hunter trailer after the jump!
Here's the latest trailer from Collider:
Vin Diesel is doing his best Vin Diesel in this movie, which plays out almost like his own version of Constantine or End of Days.  Even though he's not cruising around in muscle cars, you have to admit that he looks cool with a flaming sword, even when covered in animal fur, braids and a crazy long beard.
Helping him out with his world-saving task is Elijah Wood as a priest and Rose Leslie as a "dreamwalker," which is exactly what Diesel needs in order to get into the dream world to stop this emerging evil. It's a little confusing, but there's a moment when Vin Diesel is charging at some kind of monster, and after shotgun blasts don't work, he just throws himself through the monsters. So that's the kind of fantasy action we're dealing with.
Oh and there's Michael Caine, because every movie like this needs someone with a trademark voice that makes the exposition sound interesting and convincing. Breck Eisner (The Crazies) directs the film coming on October 23rd.
The modern world holds many secrets, but the most astounding secret of all is that witches still live amongst us; vicious supernatural creatures intent on unleashing the Black Death upon the world. Armies of witch hunters battled the unnatural enemy across the globe for centuries, including Kaulder (Vin Diesel), a valiant warrior who managed to slay the all-powerful Queen Witch, decimating her followers in the process. In the moments right before her death, the Queen curses Kaulder with her own immortality, forever separating him from his beloved wife and daughter in the afterlife. Today Kaulder is the only one of his kind remaining, and has spent centuries hunting down rogue witches, all the while yearning for his long-lost loved ones. However, unbeknownst to Kaulder, the Queen Witch is resurrected and seeks revenge on her killer causing an epic battle that will determine the survival of the human race.