Get Your First Real Look At Doctor Doom In This New 'Fantastic Four' Clip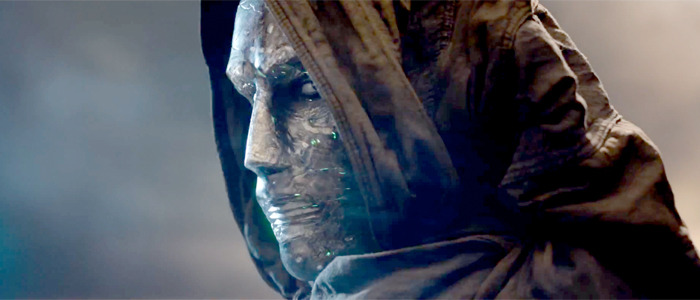 Tonight you can start catching screenings of Fantastic Four around the United States before it starts playing all day around the country tomorrow. And 20th Century Fox is still in full marketing mode trying to get you interested.
One of the aspects of the film that has remained mostly unseen is the full form of Toby Kebbell as the Fantastic Four's nemesis Doctor Doom. The recent extended preview gave us some insight into what happens with the character they the five-person research team travels to another universe, but this is the first time we've seen Doom for an extended period of time in action. And sadly, he looks like a radioactive Crash Test Dummy.
Watch the Fantastic Four Doctor Doom clip after the jump, but beware of some spoilers!
UPDATE: Sorry, folks, but even though this looks official, it's been taken down for now. We'll be sure to replace it if the video makes it back online.
My first thought is that the attacks waged on this facility are surprisingly bloody. And then my second thought is whether or not I still have my Crash Test Dummy action figures from the early 90s, because this version of Doctor Doom has an absolutely terribly designed face that makes him looks like one of those guys had molten metal and glow sticks thrown on him.
One could argue that the original Marvel Comics design for Doctor Doom didn't have the most interesting face for a villain since he's just wearing a metal mask, but if the rest of the design is going to depart so drastically from the comic book character, why bother making his face like that? It's not the only problem Fantastic Four has with faces as all four of our leads have them hidden behind their space helmet gear while exploring in space.
If you want some context of when this takes place in the movie, this scene happens towards the end, and it's the lead-up to the final battle between our heroes and Doctor Doom. While the initial round of early buzz was positive on the movie, the first reviews that rolled in after that have not been flattering at all. You'll have to find out for yourself.
FANTASTIC FOUR, a contemporary re-imagining of Marvel's original and longest-running superhero team, centers on four young outsiders who teleport to an alternate and dangerous universe, which alters their physical form in shocking ways. Their lives irrevocably upended, the team must learn to harness their daunting new abilities and work together to save Earth from a former friend turned enemy.