'Crash Test' Trailer: Paul Scheer & Rob Huebel's Comedy Special Recorded On A Moving Bus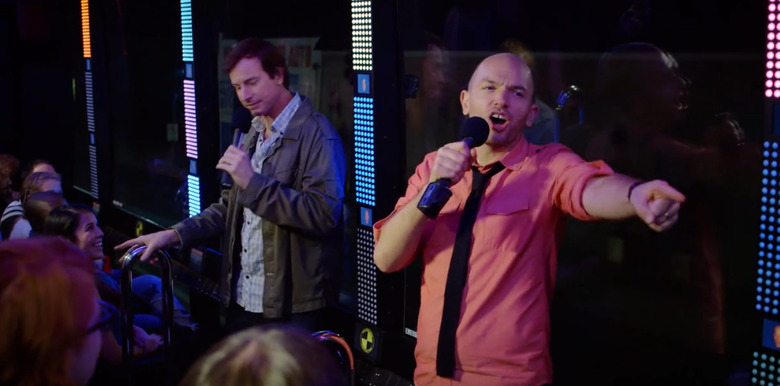 Comedians Paul Scheer and Rob Huebel have collaborated with each other countless times, at various venues, in several different mediums. Maybe you've seen them on their MTV sketch show Human Giant, in any of the dozen movies and TV shows they've appeared in or at the UCB Theatre doing their show Crash Test. If you've seen the latter, then you're going to love this news.
Paramount Digital Entertainment is bringing a new Crash Test comedy special to Vimeo on Demand, and it's not just a recorded version of one of the shows at the UCB Theatre. Instead, this comedy special was recorded on a moving bus and at various tops that the Crash Test vehicle made in Los Angeles, and there's a ton of awesome special guests.
Watch the Crash Test trailer after the jump!
Here's the trailer (via Splitsider):
This looks absolutely awesome. From appearances by Aubrey Plaza, Aziz Ansari, Jack McBrayer, Natasha Leggero and Rob Corddry to Thomas Lennon and Ben Garant reprising their characters from Reno 911!, this promises to be an epic comedy special, chronicling a truly unique night of comedy as only the City of Angels can deliver.
As someone who has attended dozens of shows at the UCB Theatre where anything can happen (you should go if you're in Los Angeles or New York), I can only imagine how crazy it must have been to be an audience member on the Crash Test bus for this special, trekking around Los Angeles and just waiting for whatever Huebel, Scheer and all their comedy friends had to throw at you.
It's just a shame this isn't a ride that gets repeated every month so that I could make it on that bus for a show. But maybe Huebel and Scheer will take the Crash Test bus to Chicago or New York City for another comedy special down the road. When your comedy show can be put on the road, anything is possible, right?
Paramount Digital Entertainment and Ben Stiller's Red Hour have been behind some great comedy content online lately, including The Hotwives of Orlando and Burning Love, both hilarious parodies of terrible reality shows that you hate to love and love to hate.
Crash Test will be available for $3.99 exclusively on Vimeo on Demand on Tuesday, August 18th.