Colin Farrell To Get Magical In 'Fantastic Beasts And Where To Find Them'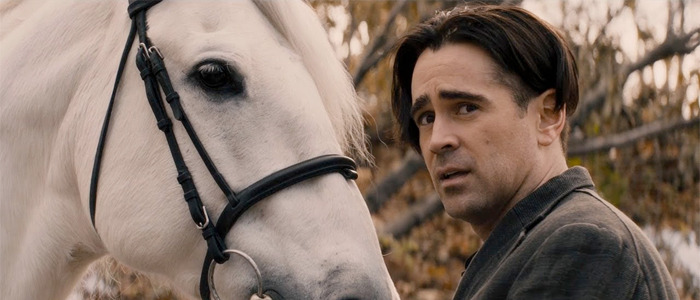 The cast of the Harry Potter spin-off Fantastic Beasts and Where to Find Them has quite an eclectic array of talent on board so far, but the cast has just added another interesting name.
This season's True Detective co-lead Colin Farrell has just signed on to the Warner Bros. project that finds Eddie Redmayne playing Newt Scamander, a wizard venturing around the magical world documenting magical creatures for his book, 70 years before the events of the Harry Potter film franchise. Find out more about Colin Farrell joining Fantastic Beasts after the jump!
According to THR, Farrell would play a fellow wizard named Graves who meets Newt Scamander in New York. It's not clear just how big Farrell's role would be, but I imagine that it would be a rather significant part of the fantasy with someone like Farrell being cast in the role. Though it could easily be a smaller part that would allow Graves to pop up in future films too. After all, we've heard this is meant to be the beginning of a spin-off trilogy. But the studio probably wants to see how the movie does at the box office first.
Meanwhile, the rest of the supporting cast includes Katherine Waterston (Inherent Vice), Ezra Miller (The Perks of Being a Wallflower), Dan Fogler (Take Me Home Tonight) and Alison Sudol (Transparent). And unlike all the previous Harry Potter movies, most of the characters in the movie, with the exception of Newt Scamander, will be American. The movie takes place in New York City after all.
Waterston is playing a witch named Tina while Sudol is playing her younger sister Queenie, and they both encounter Newt during his travels in New York as well. As for Miller, he's another magical character who also crosses path with Newt. But Fogler is actually a Muggle named Jacob who is befriended by Newt, though we've also heard he may be a rival for the main character too.
As a big Harry Potter fan, I'm very interested to see how a story is shaped around a character that we know very little about. These are the kind of projects that I would like to see happen with the Star Wars Anthology movies, following new characters who don't need to adhere to a strict line of mythology and don't have direct ties to characters we know.
David Yates is directing Fantastic Beasts and Where to Find Them with a script that Harry Potter author J.K. Rowling is writing herself, and the film is slated to hit theaters next fall on November 18th, 2016. Stay tuned for more.