Will Smith Replacing Hugh Jackman In 'Collateral Beauty'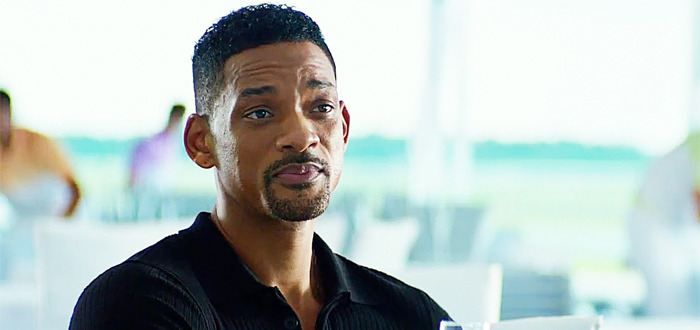 This fall we'll see Hugh Jackman and Rooney Mara on screen together in Pan (watch the latest trailer right here), and the two stars were meant to reunite on Collateral Beauty, the next film from Me and Earl and the Dying Girl director Alfonso Gomez-Rejon. But Jackman ended up falling away from the project, and a replacement has been sought over the past month or so.
Recently Johnny Depp was tipped as a potential replacement, but instead another international superstar has stepped up to the plate with Will Smith taking the lead role in the drama that still has Rooney Mara attached as the female lead. Find out more about Will Smith in Collateral Beauty after the jump!
Deadline has word on Smith replacing Jackman in the story of a New York advertising executive who experiences a deep personal tragedy, spiraling into depression. When his colleagues devise an unconventional plan to break him out of his depression, the plan somehow works, but not in a way that anyone imagined.
That's a pretty vague logline, but it does seem to allow for comedy and drama, which Gomez-Rejon succeeded with very well in his aforementioned Sundance selected coming-of-age tale (which was one of our favorite movies of 2015 so far). And if it is a nice, even blend of comedy and drama, that's something Smith hasn't really done successfully before, so this could be the time to make it work.
This addition certainly shows that Smith still has a desire to star in dramas between his work on blockbusters like Suicide Squad (watch the officially released footage from Comic-Con right here, and find out more about the DC Comics characters over here), and he's also producing the film by way of his Overbrook Entertainment production banner, named for his neighborhood in West Philadelphia (where he was born and raised).
As for the script, that comes from writer Allan Loeb (Rock of Ages, Wall Street: Money Never Sleeps), a writer who has delivered mixed results on the big screen. For my money, the more intriguing part of the project is the pairing of Will Smith and Jason Segel, who entered talks to join the project just last month. Hopefully Segel will be taking on some more heavy-hitting roles outside of comedy after his spectacular turn as David Foster Wallace in The End of the Tour (in limited release right now).
Anyway, stay tuned for any more updates on Collateral Beauty.