New 'Star Wars Battlefront' Footage: Yes, You Can Fly The Millennium Falcon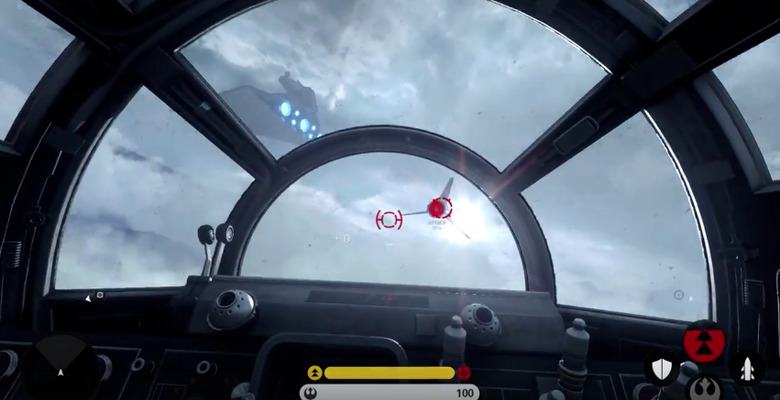 We may receive a commission on purchases made from links.
We've already seen enough footage from the forthcoming video game Star Wars Battlefront to convince me to buy the game when it arrives this fall. However, some new footage from the game gets me even more excited to play around in a galaxy far, far away.
EA has just revealed footage from a gameplay mode called Fighter Squadron which allows players to take part in an insane 20-player dogfight. That means there will be a ton of X-Wings, TIE Fighters and even the Millennium Falcon flying around, all piloted by you. Watch the Star Wars Battlefront Millennium Falcon game footage below!
Here's the footage from the Fighter Squadron game mode from EA:
The game's senior producer, Sigurlina Ingvarsdottir, said at Gamescom (via The Verge):
"Fighter Squadron will put you inside the cockpit of some of the most memorable vehicles ever seen in the Star Wars galaxy. We want to give fans the thrill of living out their Star Wars battle fantasies in a game that is authentic, visually stunning and fun."
This is certainly one of the key things Star Wars fans have wanted from a current generation video game for awhile, and it's pretty awesome to see it in action. And beside the appeal of piloting the Millennium Falcon in this video game, the footage itself just looks incredible. Your parents, maybe even grandparents, may want to get in on the fun this fall.
Don't forget to check out the previous trailer for Star Wars Battlefront, as well as gameplay footage from the Assault on Hoth. And remember that Star Wars Battlefront will put players in The Battle of Jakku, one of the key events that has already taken place between Return of the Jedi and The Force Awakens. That's how the crashed Star Destroyers we've seen in the trailers for Episode VII ended up there to begin with.
There's still time to pre-order Star Wars Battlefront right here so you can have it in your hands on the release date. With video games being so expensive these days, I know that significant time will be spent making it worth my money by flying around in the Millennium Falcon (and maybe Slave I?) with my headset on telling my friend on the other end, "Great kid, don't get cocky." And that's when you say, "You don't have any friends." And then it gets awkwardly quiet.
Star Wars: Battlefront will be released for the PlayStation 4, Xbox One, and PC on November 17th.