Joel McHale Says 'Community' Is Done Because The Cast Is Too Expensive Now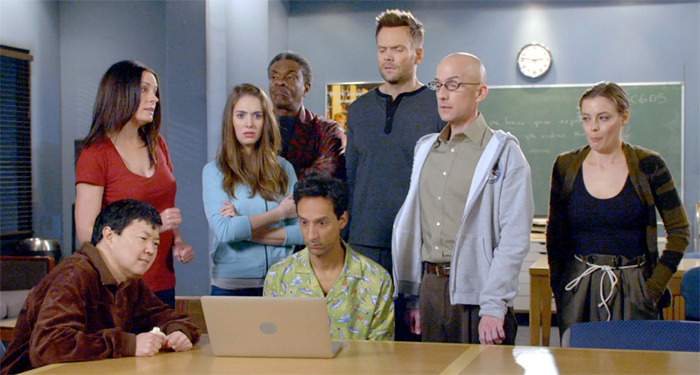 Back in June, we reported that the former NBC comedy series Community could end up getting another season at Yahoo after it was saved from cancellation and turned into a web series. However, it appears that possibility just went out the window.
Series star Joel McHale recently said in an interview that the profile of the cast members has grown significantly since the series premiered six years ago, and Yahoo simply can't afford to pay the cast what they should be earning anymore. Find out more about why we're seeing Community canceled again after the jump!
Speaking with Metro Weekly (via Vulture), here's what McHale had to say about why Community won't be coming back for another season:
"All of our contracts were up after six years. All the actors on the show, almost without exception — their stock has risen significantly and it's out of the pay rate that is affordable to make the show. So you're not going to be able to get Alison Brie or Gillian Jacobs at a normal television salary anymore. There is just not enough money to be able to pay for the show."
Some of the cast even outgrew the show before it was canceled, with Donald Glover heading off to do another project at FX instead of sticking with Community. So while this news may be a bummer for Community fans, it was inevitable.
But the good news is that the prophecy of "Six Seasons and a Movie" can still be fulfilled. In fact, even though McHale just delivered this bad news about new new episodes of Community happening, he did indicate to Esquire a few weeks ago that getting the movie together would be something that the whole cast would be interested in, but they need a script first:
"I think what has to happen is that Dan [Harmon, creator] needs to write the script. It's a tall order for someone. 'Go write a brilliant movie script on a beloved show that you've been writing for six years. Go! Just go ahead and do that!' I don't think that is something that's like, 'Let me just have a long weekend.' The cast would do it. We would all do it.
I really do think there'll be a movie. It might be false optimism, but I really think there will be. The more people read and talk about it, the more it gets stirred up."
However, don't hold your breath for a Community movie to happen anytime soon, because series creator and showrunner Dan Harmon (seen above in the documentary Harmontown, available on Netflix Instant now) is in no hurry to get it off the ground, even if Yahoo wants one now. He told EW:
"I told Yahoo, 'I can't think about writing a movie until I miss Community,' They wanted to turn around and do a movie immediately, and Yahoo can get it done. They're like the NSA. The difficulty is in just: Can you get all the actors in the same place again?"
Indeed, as McHale has pointed out, the cast is much busier with outside projects than they used to be. Getting them together for a movie might prove to be a difficulty comparable to rounding up the cast of Arrested Development together again (though there's some bigger names in that cast to make things harder in that scenario).
Plus, Dan Harmon is rather busy making comedy gold elsewhere since since he's the co-showrunner on the stellar Adult Swim animated series Rick & Morty. Frankly, I'd rather have Harmon working on that show than worrying about a Community movie right now. But hopefully we can revisit those characters sometime down the road in a feature film when Harmon misses them enough. Until then, we'll just have to visit the study room using our own Dreamatorium.
Do you want a Community movie still?