'The Martian' Viral Video: Matt Damon & Crew Are Tested After Isolation Training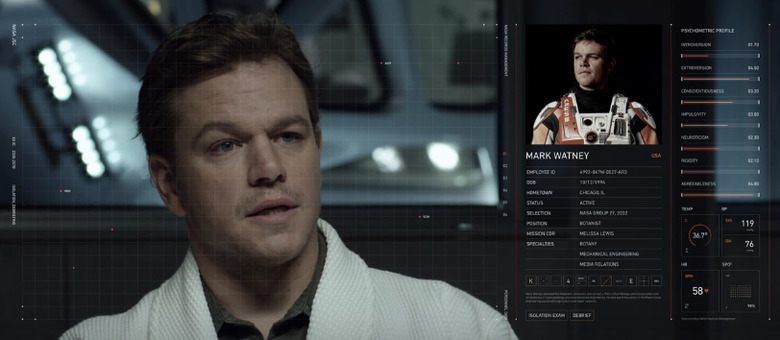 Before the first trailer for Ridley Scott's sci-fi drama The Martian debuted, 20th Century Fox teased the film with a viral video from the video archives of the Ares 3, the latest mission to Mars. And now a second viral video has debuted with Matt Damon and the rest of his crew being interviewed by a NASA psychologist after experiencing 10 days in isolation.
From the video it's made pretty clear that Damon has no problem being stuck by himself for 10 days, with the most pressing question he has upon emerging being about Aquaman's abilities. And honestly, it's a perfectly valid question. Watch The Martian viral video after the jump!
Michael Pena didn't have any problems getting used to the isolation either, choosing to partake in a more primitive way to pass the time, while Aksel Hennie isn't scared at all, simply because he's German. Sebastian Stan seems to be in perfect condition as a doctor who deals with stressful situations everyday, and Kate Mara is just plain sleepy, but she gives us the rundown on how she feels about the rest of the crew.
One of the more intriguing parts of this video is Jessica Chastain's silence when asked if she feels any pressure as the first female crew member on an Ares mission to Mars. Could that be telling of something that happens in the movie? Either way, this is one of the more clever viral marketing campaigns we've seen in a long time, and I hope there's much more in store leading up to the fall release.
Don't forget, The Martian has moved up to an earlier release date on October 2nd, and you can still watch the first trailer for the sci-fi flick right here.
During a manned mission to Mars, Astronaut Mark Watney (Matt Damon) is presumed dead after a fierce storm and left behind by his crew. But Watney has survived and finds himself stranded and alone on the hostile planet. With only meager supplies, he must draw upon his ingenuity, wit and spirit to subsist and find a way to signal to Earth that he is alive. Millions of miles away, NASA and a team of international scientists work tirelessly to bring "the Martian" home, while his crewmates concurrently plot a daring, if not impossible, rescue mission. As these stories of incredible bravery unfold, the world comes together to root for Watney's safe return. Based on a best-selling novel, and helmed by master director Ridley Scott, THE MARTIAN features a star studded cast that includes Jessica Chastain, Kristen Wiig, Kate Mara, Michael Pena, Jeff Daniels, Chiwetel Ejiofor, and Donald Glover.