Watch Chris Hardwick Audition For 'Fantastic Four' And A Drone That Looks Like Human Torch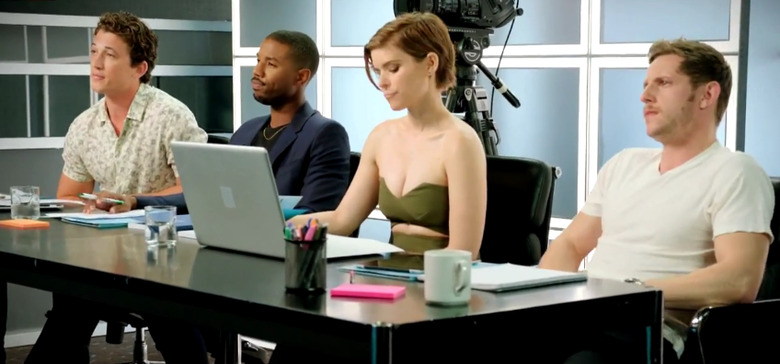 This weekend brings the release of 20th Century Fox's latest attempt to bring Fantastic Four to the big screen, and the early buzz on the comic book reboot from director Josh Trank is pretty positive so far. We'll see if that holds up when more people see the movie this weekend.
In the meantime, it appears the studio is already  looking forward to the future by changing up the superpowered quartet by adding a fifth person. Nerdist founder, comedian and Talking Dead host Chris Hardwick recently auditioned for a role in Fantastic Five, and franchise stars Miles Teller, Kate Mara, Michael B. Jordan and Jamie Bell were there to oversee his tryout. How did it go? Watch the Chris Hardwick Fantastic Four audition after the jump to find out.
Here's Chris Hardwick's Fantastic Four audition from Comedy Central:
All right, obviously this is all a joke, but having a big comic book geek like Hardwick on any superhero team would be a helpful addition, if only because he would know every super villain's weakness immediately. It may make for some shorter movies, and that wouldn't necessarily be a bad thing in some cases.
If that particular video wasn't your cup of tea, or you just came here for the second part of the headline, then this video is for you. Some firefighters took the time to creating a flaming drone that looks like Human Torch when flying through the sky. Check it out:
If you're worried about the safety of the town below the fiery flying vehicle, you should know that the entire town is actually used as a firefighter training facility. So if something there catches on fire, it's all in a day's work. If anything, it'll just give these firefighters extra training so they can put out fires even faster and more efficiently.
Anyway, that's a pretty cool little drone, and if Human Torch wasn't created with visual effects when he flies through the sky, this would be a pretty cool practical way to shoot footage of the superhero for Fantastic Four. Thanks to Did That Just Happen for bringing this to our attention.