WTF: Now Pez Candy Is Getting A Movie Too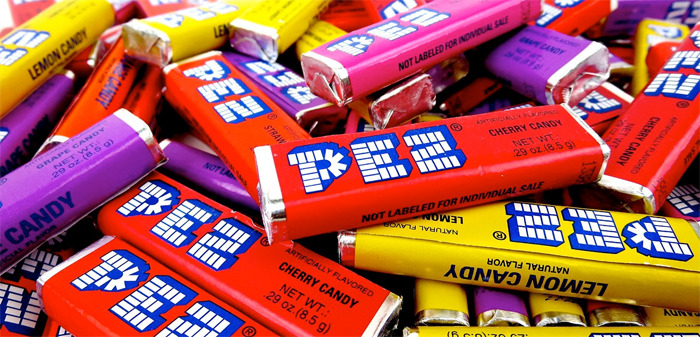 Hot on the heels of the mind-numbing news that Sony Pictures Animation is making an Emoji movie, yet another mystifying movie is in development based on a familiar property. In contrast to the basis for the Emoji movie, this particular property is 88 years old.
At some point in your life, you've likely encountered Pez candy, the chalky, fruity, antacid-like sugar tablets dispensed from trademark containers featuring popular characters whose heads lift open and to push out candy. And somehow, a company called Envision Media Arts is developing a Pez movie. Find out more about this bewildering project below!
A press release just announced the new project, an animated film that will be written by Cameron Fay. His only big screen writing credit is a forthcoming comedy called Brother in Laws featuring Taran Killam, David Wain, Bobby Moynihan, Bill Pullman, Kenan Thompson, Gillian Jacobs and more. He's also apparently on board to write a new Three Stooges movie for 2017.
As of now there's no indication as to what this movie could possibly be about, but Envision Media Arts co-founder Lee Nelson says, "Pez candy is beloved by children and adults alike. With Cameron Fay we've created a world unique to Pez and a story that will touch the hearts of many."
Since many popular toys, board games and video games have been picked up for feature film treatments, I guess the candy aisle is the next place for Hollywood to raid. But if we're going to turn candy into a movie, I'm surprised that it's not the walking and talking M&M's who are going first. They already have a strong presence in pre-roll advertisements that play before movies, at least at AMC Theatres chains, so that would make sense. But a Pez movie? This baffles me.
The only thing that might make this interesting is if Pez is able to use the endless array of pop culture characters who have been turned into Pez dispensers, not unlike how The LEGO Movie had an arsenal of franchises to utilize in their big screen endeavor (though using that movie as an example is starting to get exhausting). But even then, what could a movie about second-rate candy and cheap plastic dispensers possibly be about?
There is an interesting community of Pez collectors, and it's so big that there's actually a Pez convention in Cleveland, Ohio appropriately called Pezmania, so maybe this isn't so crazy of an idea? A movie set at Pezmania could be something that might work well.
Envision Media Arts is a relatively young company, having only financed or produced five films in the past five years (including one of my favorite Sundance movies from 2012, Celeste and Jesse Forever), so maybe they're just desperate for some kind of project with a recognizable brand attached to it. I won't say this sounds like the dumbest idea ever, but a Pez movie is going to have an uphill battle to get anybody on board.