FilmBuff Will Distribute 'The Primary Instinct'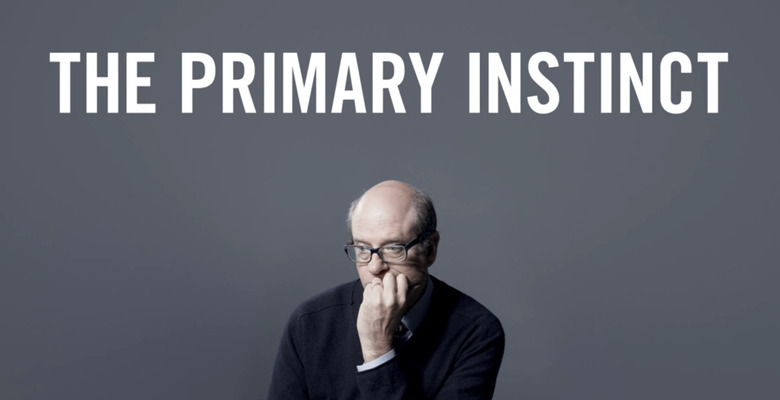 Last year, with the help of some /Film readers, I received Kickstarter funding to direct a concert film with actor Stephen Tobolowsky. The film played at a few film festivals, but the question quickly became: what was going to happen next for The Primary Instinct?
I estimate 70% of the process of releasing a movie is just getting the film made; the other 30% is getting the film seen. That's why I'm really pleased to announce that FilmBuff — the same distribution company that released great indie films like Exit Through the Gift Shop and The Internet's Own Boy, will be distributing The Primary Instinct. Hit the jump for more details, plus the full press release.
Deadline was the first to break the news that FilmBuff had picked us up. I had several reasons for wanting to partner with FilmBuff for the movie:1) They are proven - From films as varied as Escape from Tomorrow to Adam Carolla's Road Hard, FilmBuff has shown they can get the word out about indie darlings and launch them into the popular consciousness.2) They know their stuff – The team at FilmBuff has been distributing indie films for the past 8 years, and they know how the industry works. They understand how to maximize a film's exposure and profitability, as well as the limits of today's VOD environment. I've been impressed by their candor in my conversations with them and trust they will treat our film well.3) I am drowning – It was certainly conceivable for me to take The Primary Instinct and put it up on all video platforms myself, as well as obtain an agent to negotiate sales. But honestly, making the film already took a lot out of me, as has preparing all the materials for its VOD release. Plus, I'm still doing what I can do maintain the podcasts I host (all while holding down a full-time job). Working with FilmBuff allowed me to take a lot of that stuff off my plate and still ensure the film would have a meaningful digital life.The Primary Instinct will be available on all major VOD platforms on September 22nd. Here's the full press release:FILMBUFF TO RELEASE THE PRIMARY INSTINCT STARRING STEPHEN TOBOLOWSKYNew York, NY – August 4th, 2015 – Digital entertainment curator FilmBuff announced today that they licensed worldwide rights to distribute THE PRIMARY INSTINCT, a concert film starring Stephen Tobolowsky and directed by David Chen. The film will be available on all major On Demand platforms starting Tuesday, September 22, 2015.THE PRIMARY INSTINCT is a concert film in which Tobolowsky plays himself and uses the art of storytelling to take the audience through a journey of life, love, and Hollywood. The movie takes place as a series of stories performed and filmed at the Moore Theatre in front of a live audience of a thousand people. With a folksy style, Tobolowsky describes the trials and tribulations of being a character actor, the joys of childhood and parenthood, and the bonds of family. Along the way, Tobolowsky just may answer one of the questions that have dogged storytellers since the beginning of time: Why do we tell stories in the first place?THE PRIMARY INSTINCT is one of many features starring Stephen Tobolowsky, one of the leading character actors in film today. He has appeared in over 200 TV shows and films, and is best known for playing Ned Ryerson in Groundhog Day, Sammy Jankis in Memento, Werner Brandes in Sneakers, Happy Chapman in Garfield, and Mr. Bates in Freaky Friday. On television, he has played Tor Ekland on Seinfeld, Hugo Jarry on Deadwood, Bob Bishop on Heroes, and Sandy Ryerson on Glee. Currently, he can be seen as Principal Ball on The Goldbergs and Alan Dolfe on Big Time in Hollywood, FL. On Broadway, he was nominated in 2002 for a Tony Award for Mornings at Seven."Stephen Tobolowsky's storytelling has already been inspiring and transformative for me and for thousands of people around the world," says Chen. "With the upcoming release of THE PRIMARY INSTINCT, I'm thrilled that even more people will be able to experience it. I'm extraordinarily grateful that FilmBuff is partnering with us to bring our film to a wider audience."THE PRIMARY INSTINCT marks the directorial debut of David Chen, who has been creating short films and video essays for two years. His video work has been featured in online publications such as Rolling Stone, Buzzfeed, Vimeo Staff Picks, Allocine, Slate, Vulture, Indiewire, Laughing Squid, Devour, Bustle, Cosmopolitan, Grantland, Metro.co.uk, and Digg. In addition, Chen hosts and produces podcasts including "The Tobolowsky Files," "The /Filmcast" and "A Cast of Kings.""All of us at FilmBuff are excited to be working with David to release THE PRIMARY INSTINCT," says FilmBuff's Jake Hanly. "The film is a fascinating journey, unexpectedly personal and deeply thought-provoking. Tobolowsky's musings on life, love, and art resonate long after the film is complete."THE PRIMARY INSTINCT will be available worldwide on all major On Demand platforms, including Amazon Instant Video, Google Play, iTunes, Vudu and Xbox Video, beginning on Tuesday, September 22, 2015.THE PRIMARY INSTINCT is directed by David Chen, written by and starring Stephen Tobolowsky, produced by Jason Hakala, Blaine Ludy, Matt Swanson and executive produced by David Chen, Michael Gaston, and Stephen Tobolowsky. The Film is a Cut.com production, and was funded with the support of over 900 Kickstarter backers. The deal was negotiated between Jake Hanly of FilmBuff and Chris Perez of Donaldson Califf, representing the filmmaker.