New 'Ghostbusters' Show Off Second Proton Pack While Visiting Children's Hospital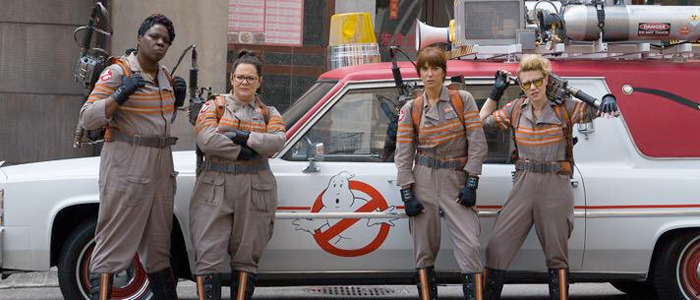 Over the weekend, the cast of the new Ghostbusters earned some goodwill with fans by visiting the Floating Hospital for Children at Tufts Medical Center in Boston. Photos have been making the rounds online featuring Melissa McCarthy, Kristen Wiig, Kate McKinnon and Leslie Jones visiting patients and their families while wearing all their Ghostbusters gear.
Obviously, this is a very charming thing for the cast to do, and we're happy to see these kids have some joy brought into their lives. But our interest has also been piqued by these photos because the team seems to be wearing an entirely different proton pack than the ones that director Paul Feig already revealed to us back in June.
See the new Ghostbusters proton pack after the jump!
Here's the photos posted on Tufts Medical Center's Facbeook page (via HuffPo):
And for comparison, here are the previous photos of proton packs revealed by Paul Feig:
As you can see, the neutrino wands are completely different in the hospital photos. They're designed to be held like a small chain gun, and look a little more heavy duty. And while we can't fully see the backpack portion of the proton pack, it looks a little more high-tech, slightly colorful, and much cleaner.
Maybe the first proton packs that Paul Feig revealed are the new Ghostbusters' first attempt at ghost-capturing technology and they eventually upgrade their gear to something better, maybe when they start making money. Or perhaps they have to design a new weapon to deal with whatever paranormal threat is terrorizing New York City.
Something else that's interesting to point out is that these versions of the jumpsuits don't have the Ghostbusters logo on the shoulders like the ones the ladies are wearing in the official cast photo that was released in July.
Also, if you look carefully, there's another cool gadget hanging from Melissa McCarthy's waistband that we haven't seen before. Since it has a small line of black and yellow diagonal stripes on it, I'm inclined to think it might be a new kind of ghost trap, but it's hard to tell. Either way, this gear is definitely new, and hopefully Paul Feig will give us a closer look at this stuff soon.
The rest of the Ghostbusters cast includes Andy Garcia as the mayor of New York City, Michael K. Williams as a character named Hawkins, Matt Walsh as a character named Rourke, Chris Hemsworth as the new secretary for the Ghostbusters, and Saturday Night Live writer Neil Casey as the film's villain. Plus, Dan Ayrkoyd also confirmed that he'll have a cameo in the film in a scene with Kristen Wiig.
Ghostbusters arrives on July 22nd, 2016.