Ian McShane Joining 'Game Of Thrones' Season Six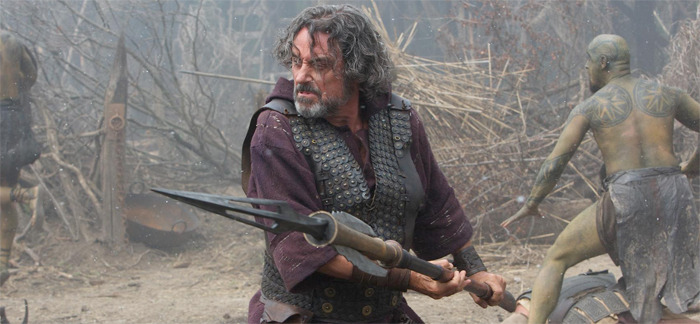 Having starred in the western series Deadwood, Ian McShane is no stranger to stirring up trouble on HBO. And now he'll return to the cable network, this time for their insanely popular fantasy series Game of Thrones.
The actor who taught Nick Frost how to dance in Cuban Fury, fought Andy Samberg in Hot Rod and gave Captain Jack Sparrow some grief in Pirates of the Caribbean: On Stranger Tides is heading to the sixth season of Game of Thrones, currently in production overseas in Ireland. Find out more about Ian McShane joining Game of Thrones after the jump!
Entertainment Weekly has the news on McShane joining the ensemble cast of Game of Thrones, but unfortunately, and word on his character is being kept under wraps. The only thing the magazine was able to find out is that he'll have a "relatively small amount of screen-time during the season," but his character still has a pivotal role.
Sadly, fans who have read the book won't even be able to figure out who McShane might be playing in this forthcoming season, because the show is now heading into uncharted territory that author George R.R. Martin's books have not yet revealed. Therefore fans could be looking at having future books spoiled (though there have been some significant changes made from the books to the TV show before).
McShane become a more recognizable face on American television after Deadwood, so it's cool to see him returning to HBO. Most recently he was hanging out over at Showtime with an arc on Ray Donovan. He's also a rare casting move for Game of Thrones, which has opted to mostly cast sparsely-known talent as opposed to well-known actors. Sean Bean, Lena Headey, Charles Dance and Peter Dinklage were probably the best known actors cast in the show's beginning. But now they're all very recognizable thanks to the popularity of the show.
In fact, that has caused some problems for the future of the show after the most recent season finale. That's because fans have spotted Kit Harington, who plays Jon Snow on the show, making frequent trips to Belfast for production meetings and table reads, implying that his character is likely not permanently dead. Is there any chance McShane will have anything to do with the future fate of Jon Snow? We'll just have to wait and see what happens.
Game of Thrones is currently in production and will return with another 10 episodes sometime in the spring of 2016. Just recently we heard that the network is currently planning on eight seasons of the show, giving a little more time for the series to flesh out than was previously planned. And let's not forget that a Game of Thrones prequel series and even a feature film may be in the cards sometime down the road as well.