Rumor: Who Is Jena Malone Playing In 'Batman V. Superman'?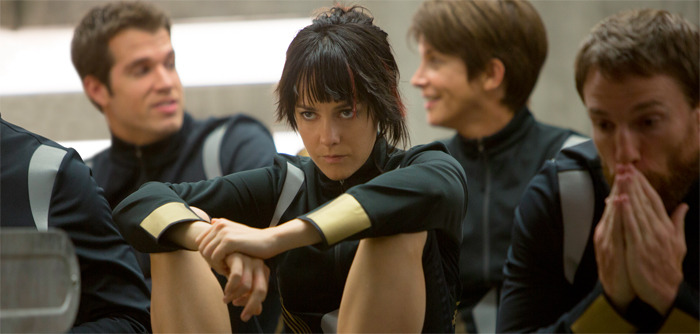 Last fall, a rumor surfaced that Robin would be appearing in Batman v. Superman: Dawn of Justice, and in a way unlike any version of the Dark Knight's sidekick we've seen on screen before. This incarnation of the character was rumored to be female. And there were even rumblings that Zack Snyder's Sucker Punch star Jena Malone was playing the character.
However, we've since seen that Robin is likely dead in Batman v. Superman, seemingly killed by The Joker in a quick shot glimpsed in the most recent trailer that debuted at Comic-Con. The suit the sidekick wore doesn't look to belong to a female with the physique of Jena Malone, and is likely a young man played by the director's son Eli Snyder.
So if Jena Malone isn't playing Robin, then just who is her character? We may finally have an answer. Find out more about Jena Malone in Batman v Superman: Dawn of Justice after the jump, but beware of potential spoilers!
Latino Review has heard from three different sources that Jena Malone is playing Barbara Gordon in Batman v. Superman. She's the daughter of Commissioner James Gordon, who has also been rumored to be dead in the story. If this is true, the big question is whether or not she'll suit up as Batgirl, or even eventually be seen as Oracle, as in the comic books. (The latter would be pretty dark if the Joker is involved.) It's already a movie crowded with superheroes, so that likely won't happen in this movie, but maybe later in the DC Comics cinematic universe.
Previously, it was Malone's recently dyed bright, red hair that made people think she could be playing Carrie Kelley, the female version of Batman's sidekick from The Dark Knight Returns. And since Snyder has used some elements from Frank Miller's take on Batman (including this cool shot from the trailer), that's certainly still a possibility. After all, if Robin really is dead — or one Robin, at least — then Batman could use a new sidekick.
But that new sidekick could just as easily be Barbara Gordon. It would be easy for she and Batman to bond, both having lost their parents to the world of crime. And as far as character design goes, Barbara Gordon has also been seen with bright red hair in the comics as well, so Malone's 'do still fits with the role.
For now, consider this a rumor that likely won't be confirmed until we see the movie. But at the very least, we know that Jena Malone does indeed have a part in Batman v. Superman, and we'll just have to wait and see how significant it is.

Batman v. Superman: Dawn of Justice stars Henry Cavill, Ben Affleck, Amy Adams, Laurence Fishburne, Jesse Eisenberg, Gal Gadot, Diane Lane, Jeremy Irons, Holly Hunter, Scoot McNairy and Jason Momoa with Man of Steel director Zack Snyder at the helm again with a script from Argo scribe Chris Terrio and David S. Goyer.
Fearing the actions of a god-like Super Hero left unchecked, Gotham City's own formidable, forceful vigilante takes on Metropolis's most revered, modern-day savior, while the world wrestles with what sort of hero it really needs. And with Batman and Superman at war with one another, a new threat quickly arises, putting mankind in greater danger than it's ever known before.
Batman v Superman: Dawn of Justice arrives on March 25th, 2016.