'Black Mass' Trailer: The FBI Lets Johnny Depp Become A Boston Crime Kingpin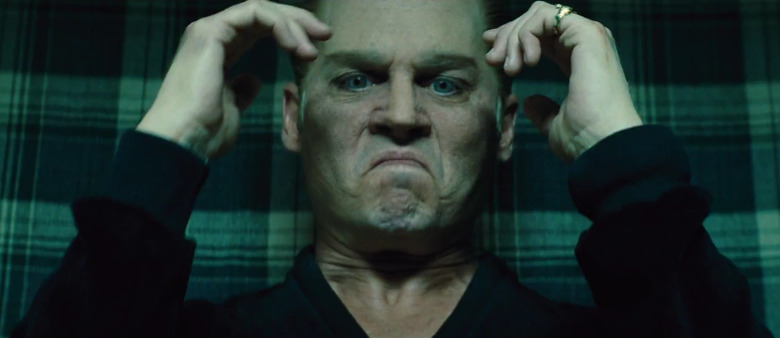 If you haven't been impressed with the work Johnny Depp has been putting out over the past decade, with disappointments like Mortdecai, The Tourist, Dark Shadows, The Lone Ranger, Transcendence, and tired Pirates of the Caribbean sequels, it looks like Black Mass might restore your faith in the actor.
A new trailer for the crime thriller from Crazy Heart and Out of the Furnace director Scott Cooper has just surfaced showing off more of what appears to be an Oscar-worthy performance from Johnny Depp as the infamous Boston gangster Whitey Bulger, who was given free criminal reign thanks to his brother (Benedict Cumberbatch) being situated at the FBI.
Watch the new Black Mass trailer after the jump!
Here's the new trailer from Warner Bros. Pictures:
My only complaint about this film so far is that Whitey Bulger looks so drastically different from Johnny Depp that the make-up can be a little distracting sometimes. There are a few close-up shots in this particular trailer where you can really see the make-up caked on his face. But hopefully it won't be enough to take away from Depp's portrayal.
If for some reason Depp isn't doing it for you, there's a whole cast that might turn your head, including Joel Edgerton, Kevin Bacon, Dakota Johnson, Peter Sarsgaard, Jesse Plemons, Corey Stoll, Rory Cochrane, Sienna Miller and Adam Scott. The film hits theaters this fall on September 18th, which hopefully won't be too early to miss out on awards season when the time comes.
If you want to see more of this promising crime drama, check out the stirring second trailer over here, and the chilling teaser trailer right here. Also, if you happen to be checking out film festivals coming up, Black Mass will be having its world premiere at the Venice Film Festival, and also playing the Toronto International Film Festival shortly thereafter in the fall, just before general audiences can check it out.
In 1970s South Boston, FBI Agent John Connolly (Joel Edgerton) persuades Irish mobster James "Whitey" Bulger (Johnny Depp) to collaborate with the FBI and eliminate a common enemy: the Italian mob. The drama tells the true story of this unholy alliance, which spiraled out of control, allowing Whitey to evade law enforcement, consolidate power, and become one of the most ruthless and powerful gangsters in Boston history.