Original 'The Killing' Director Boards BBC's Event Series 'Taboo' Starring Tom Hardy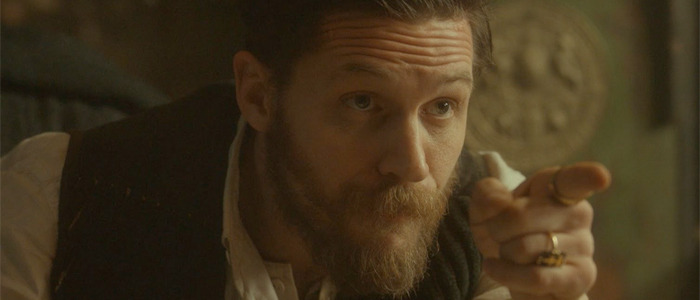 Over a year ago, in the spring of 2014, Tom Hardy was reported to star in a BBC One drama event series called Taboo, created by Locke director Steven Knight. And now the project has finally made some more progress towards getting in front of cameras this fall.
Danish director Kristoffer Nyholm, best known for directing the original Scandinavian version of The Killing before it was imported and adapted for American audiences on AMC and Netflix, has boarded Taboo. Nyholm will direct the first four episodes of the eight-part series. Learn more about the Tom Hardy Taboo series after the jump!
In the series, Hardy plays James Keziah Delaney, a rogue adventurer who returns to London in 1813 after spending 10 years in Africa, only to discover that he has been left a mysterious legacy by his father, who has been killed. Delaney refuses to sell his family's business to the East India Company, and opts to build his own trading and shipping empire instead, which thrusts him into the middle of the War of 1812, between the U.S. and Britain. Hardy previously said:
"We're creating a flagship British drama for this generation, a hybrid of orthodox and unconventional story telling, packed with darkness and spirited characters."
Nyholm hyped up the project in Deadline's announcement, saying:
"This is a wonderful character-driven tale, and is very much the kind of dark, multifaceted world of drama and intrigue that I'm drawn to For me, it feels like a natural follow on from The Killing and The Enfield Haunting. We have a fantastic team on board to help bring it to life, and I look forward to that process."
It sounds like it has the potential to be an interesting drama, especially if it capture the attention of Hardy, who also starred in the series Peaky Blinders (another collaboration with Steven Knight). Just goes to show you how well television is doing as a medium right now, to keep getting talent like Tom Hardy for these TV shows. Plus, Hardy actually crafted the original story himself with his father Chips Hardy.
It also helps that Ridley Scott is producing by way of his Scott Free London production banner, along with Hardy's own Hardy Son & Baker. The series is set up at BBC One and FX with production beginning this November in the United Kingdom. No word on when we might expect to see the series yet, or if it will hit the United States and the United Kingdom at the same time, but we'll be sure to keep our ears to the ground for more.
Otherwise, we'll get to see Hardy on the big screen twice this fall with a double role in the crime drama Legend (watch the most recent trailer here), and also Alejandro Gonzalez Inarritu's The Revenant, reteaming him with Inception co-star Leondaro DiCaprio (watch the teaser trailer here). Both look like they'll be films to keep an eye on this fall.