Star Wars Bits: Netflix TV Shows, Force Awakens Bit Parts, Rogue One Script And More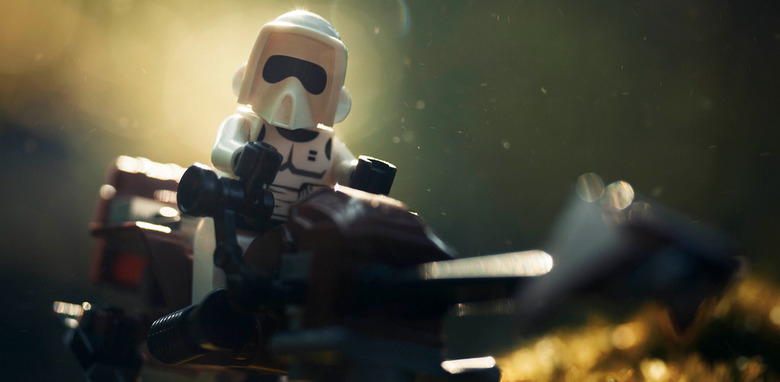 I've outrun Imperial starships. Not the local bulk cruisers mind you, I'm talking about the big Star Wars Bits now. Here's the updates we have from a galaxy far, far away this time:
Are three live-action Star Wars shows planned for Netflix?
Bob Iger has already seen The Force Awakens...mostly.
Simon Pegg talks his experience on The Force Awakens set.
Game of Thrones actors in The Force Awakens confirmed?
New LEGO Star Wars photography book coming in November.
Gary Whitta talks Star Wars: Rogue One writing process.
J.J. Abrams on pressure of directing The Force Awakens.
Header image: A photograph from the forthcoming photography book 'LEGO Star Wars: Small Scenes from a Big Galaxy,' which you can learn more about below!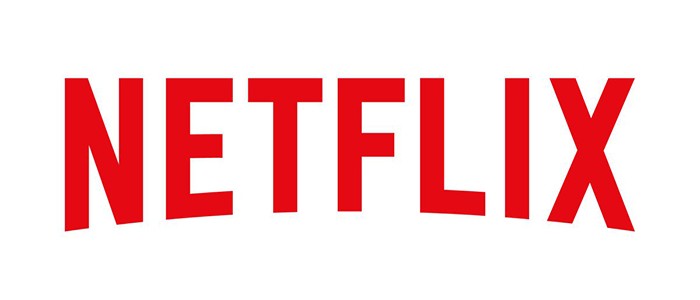 A big rumor has popped up continuing the ongoing rumblings of live-action Star Wars TV shows being developed. However, Cinelinx is a little more specific with details this time saying that there are currently three shows in the works, and Disney is hoping to have them at Netflix, continuing the relationship they've built after putting the Marvel Studios TV shows, beginning with Daredevil, on the streaming service. Take this with a grain of salt for now, but if true, it'll be huge for Netflix.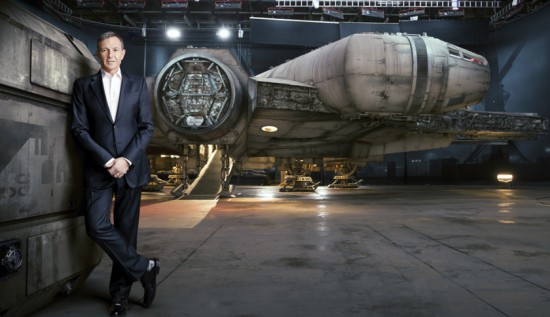 Disney CEO Bob Iger recently revealed that he's already seen The Force Awakens. CNBC was speaking with Iger the potential future sale of ESPN and conversation turned to Star Wars, and that's when Iger said:
"I've seen the film without most of its special effects and without most of its music. I can't wait for the world to see it."
Of course he's not going to say anything more than that, and as the CEO of Disney, he's not going to say anything that isn't positive. But now you know that someone has seen a working cut of The Force Awakens besides J.J. Abrams and some of his crew.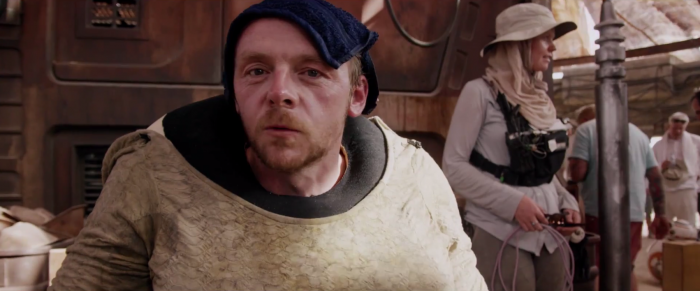 Simon Pegg was finally confirmed to have a role in Star Wars: The Force Awakens when he popped up in the behind the scenes sizzle reel that debuted at Comic-Con, but we still don't know who he's playing. It appears to be some kind of alien where his face will likely be hidden. Now the Shaun of the Dead and Mission: Impossible franchise star has opened up a bit more about his experience to PopSugar:
"I was down there days when I wasn't working just to hang out and see everybody. Meeting the likes of Carrie Fisher, and Mark Hamill, and Harrison Ford — they were my heroes growing up. They still are. It was extraordinary, and I'm sure they find it hilariously funny. I was holding Carrie Fisher, like, 'I love you!' And I could see it, looking into her eyes, I could see the same eyes that I'd seen as a kid. It was literally a dream come true. They're all awesome. They're great people."
In addition, Pegg also revealed to AOL that the sizzle reel we all saw come out of Comic-Con was actually shot for the cast and crew to watch, and wasn't cut specifically for the San Diego crowd.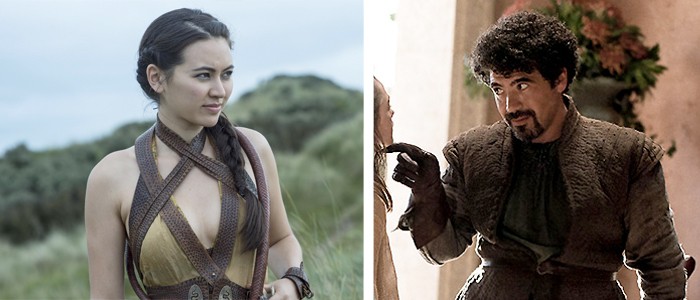 Game of Thrones actor Miltos Yerolemou (right) has been said to have some kind of role in Star Wars: The Force Awakens for a while now, but we still haven't heard who he might play. Now a new rumor has surfaced that may tell us who he's playing. According to StarWarsPost and MakingStarWars.net, the actor will be a patron at a bar inside a large establishment owned by Maz Kanata, the motion-capture alien character played by Lupita Nyong'o. This comes from a whole list of spoilers of what happens at this key location, and if you want to read them you'll have to check out the full article for the details.
In addition, Game of Thrones actress Jessica Henwick (left) has been rumored to have a role in The Force Awakens, but she's still playing coy about the whole thing. In a recent interview, when asked what she has coming up (via MakingStarWars.net), she nervously and knowingly laughs, saying, "I've got some stuff coming out later this year. Which I will be talking about shortly." The interviewer follows up, "In a galaxy far, far away, perhaps?," to which she slyly says, "No idea what you're talking about, mate." MakingStarWars.net also may have figured out who she's playing if you're curious.

If you love Star Wars and LEGO, then you may be interested in a new photography book coming out in November called LEGO Star Wars: Small Scenes from a Big Galaxy. The book will feature photographs of "painstaking recreations of classic Star Wars movie moments as well as irreverent takes on classic characters in the traditional LEGO Star Wars style."
The book is made up of photographs from Finnish photographer Vesa Lehtimaki, who used his son's favorite toys to create the images, along with a showcase of plenty of other LEGO Star Wars photography. You can see a sneak preview of what you might see in the book at StarWars.com right here. Otherwise, the book hits shelves on November 10th.

Gary Whitta, writer of Star Wars: Rogue One, talked a bit about the writing process for the first Star Wars Anthology film and explained how they had a larger Star Wars universe bible to draw from as well as being able to create stuff from scratch:
"A little bit of both. [Lucasfilm] really want[s] to give their writers and their creative people a lot of freedom, to tell the best story possible. But they're also aware of the fact that they're building this very large interconnected universe, now with all the comic books, TV shows, videogames, and films everything is now canon. So everything they do now going forward is canonically connected and has to be consistent as part of the same universe. No one is making the movies or the comics or the TV shows in a vacuum; everything is part of this one big consistent universe. Lucasfilm has a tremendous amount of institutional knowledge, you know. I know Star Wars fairly well myself, just as a fan, but they have experts there, people there who know the Star Wars universe inside and out. They're also are very aware of what else is going on in the other movies, and what their overall plan is."
Find out more from the interview at Blastr.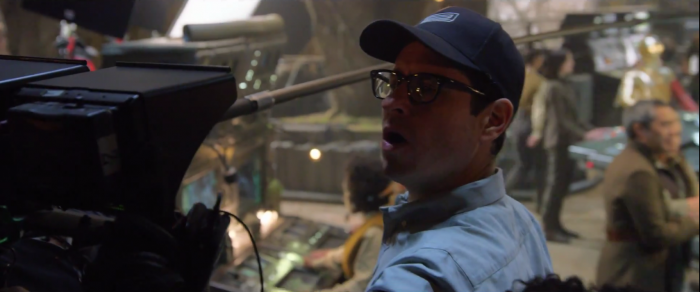 Finally, director J.J. Abrams appeared at the premiere of Mission: Impossible – Rogue Nation, since he and his Bad Robot production banner produced the Tom Cruise action flick, and he was asked about feeling the pressure of directing Star Wars: The Force Awakens. Here's his response to Extra:
That's all for Star Wars Bits this time. Stay tuned for more soon!