'The Muppets' Posters Tease A Network Show With Full Frontal Nudity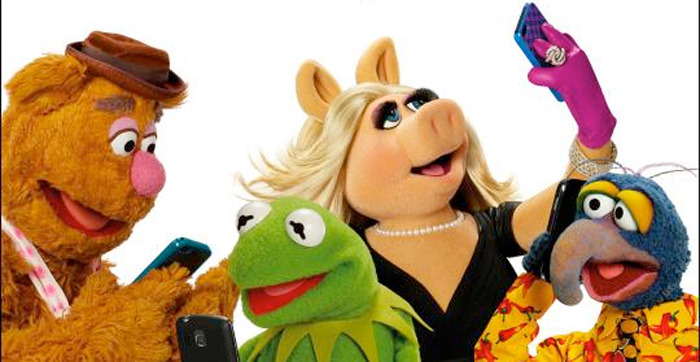 Not long after the the video presentation that landed The Muppets a new show on ABC surfaced online after a debut at Comic-Con, we have a batch of new posters for the "more adult" TV comedy series that you'll likely start seeing around major cities very soon.
Featuring Kermit the Frog, Miss Piggy, Fozzie Bear and Gonzo, each of the character posters have a clever little tagline, with Kermit's taking the cake as the boldest and funniest tagline to promote a Muppets production I've ever heard. Check out The Muppets TV show posters after the jump!
Here's the new posters for ABC's The Muppets from Yahoo:
Honestly, I wish there were a bunch more posters featuring a cavalcade of the other Muppets. It would have been great to have the grumpy, snarky old critics Statler and Waldorf deliver some sort of scathing review, or even have Swedish Chef on a poster that makes absolutely no sense whatsoever.
The previous television efforts of The Muppets have definitely been more variety show based, but this will actually dive into the lives of our favorite fuzzy friends. We'll get to see how they live when they're not at work putting on a show, though the "documentary" crew does still follow them as they're trying to put on a new show.
Co-creator Bill Prady recently noted at the Comic-Con panel for the show:
"The trick of the show, if it works, is to make it feel for the first time that you're seeing the Muppets in our world. There's no barrier in the world that they're in and the world that we're in There's a whole aspect of their personal lives that we don't know and we're trying to construct personal lives for them that match the stuff that we do know."
If you have 47 minutes to kill, I wholly recommend watching the entire Comic-Con panel from San Diego featuring Kermit, Miss Piggy, Fozzie, Gonzo and more, live on stage for a wonderful Q&A session. Or if brevity is more your thing, then just watch the TV trailer right here.
The Muppets return to primetime with a contemporary, documentary-style show. For the first time ever, a series will explore the Muppets' personal lives and relationships, both at home and at work, as well as romances, breakups, achievements, disappointments, wants and desires. This is a more adult Muppet show, for "kids" of all ages.
Bill Prady ("The Big Bang Theory") and Bob Kushell ("Anger Management") are co-writers and executive producers. Randall Einhorn ("Wilfred"), Bill Barretta, Debbie McClellan and Kyle Laughlin are also executive producers. "The Muppets" is produced by ABC Studios and The Muppets Studio.
The Muppets premieres on September 22nd on ABC.