'Ferrell Takes The Field' Trailer: Will Ferrell Brings Passion And Ignorance To Baseball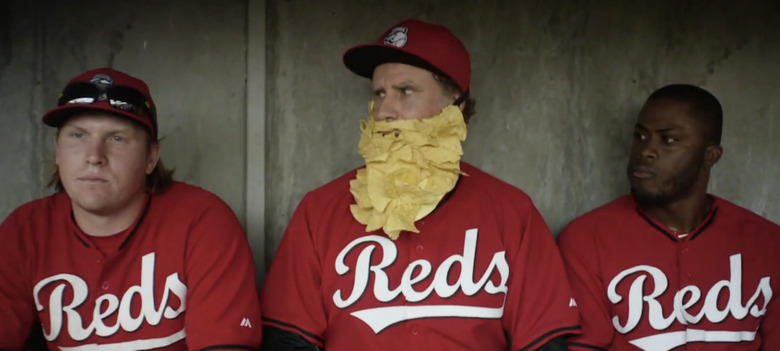 Earlier this month, we got a small tease of Will Ferrell making America's pasttime even greater in the HBO documentary special Ferrell Takes the Field, featuring the comedy star playing every position in baseball, on ten different Major League Baseball teams.
Now the full trailer has arrived, showing just how the Anchorman and Step Brothers star shook up the ball diamond. Even if you're not a fan of baseball at all, this looks like it's going to be thoroughly entertaining. Watch the full Ferrell Takes the Field trailer after the jump!
Here's the trailer, straight from HBO:
The special was taped on March 12th this year when Ferrell went to five different spring training ballparks, being traded around to the Oakland Athletics, Seattle Mariners, Chicago Cubs, Los Angeles Angels of Anaheim, Cincinnati Reds, Arizona Diamondbacks, San Francisco Giants, Chicago White Sox, Los Angeles Dodgers and San Diego Padres. As a Midwest guy, I'm pretty happy he played for both Chicago teams.
Ferrell describes his short baseball career perfectly, "There's no doubt I turned some heads today. I brought passion to the field, dedication, ability and a lot of ignorance." No matter how much ignorance he brought to the table, Ferrell can be seen pitching, catching, batting and even arriving to one game by helicopter, right in the middle of the field, like a damn American hero.
All of this was done in tribute to Bert "Campy" Campaneris, a professional ballplayer for the Kansas City Athletics who played all nine positions in baseball while playing against the California Angels on September 8th, 1965. But he also did it to help raise awareness and money for organizations dedicated to fighting cancer, including Cancer for College, which helps individuals adversely affected by cancer to realize their dream of a college education.
In a speech addressing the historical day in baseball, Ferrell said:
"They say nothing's more American than heading to the ballpark, grabbing a hot dog and watching nine guys from the Dominican Republic make magic on the field. But today I learned they are wrong. Make that eight Dominicans and one guy from Irvine, California."
If this proves to be something fans like to see, I wouldn't mind seeing Ferrell doing this for football, basketball and hockey. We could have a little sports documentary special franchise brewing here.
Ferrell Takes the Field will premiere exclusively on HBO on Saturday, September 12th at 10pm Eastern/Pacific time.