Set Photo Teases Patrick Stewart On Set Of 'X-Men: Apocalypse'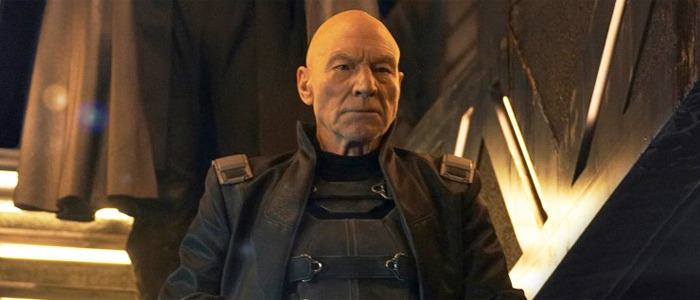 Back in January this year, X-Men franchise star Patrick Stewart thought that neither he nor co-star Ian McKellen were going to be popping up in X-Men Apocalypse, with the focus on the 1983 versions of the mutants that were rebooted in X-Men: First Class and continued into X-Men: Days of Future Past.
Now a new set photo from director Bryan Singer teases that Stewart might be back in some capacity after all, with the actor seen on set during production. See the Patrick Stewart X-Men Apocalypse set photo after the jump!
Here's what Bryan Singer posted on Instagram yesterday:
Singer seems to be pretty forthcoming about saying that Patrick Stewart was just visiting the set (along with Juno and Up in the Air director Jason Reitman), and he's not exactly in Professor X wardrobe, so it doesn't look like the actor was filming an appearance in the film. Still, being in the area to visit the set seems a little suspicious, right? Well, not exactly.
Bryan Singer mentioned that he was looking forward to the live-reading of The Big Lebowski that Jason Reitman hosted as part of the Just for Laughs comedy festival in Montreal. That live-reading also happened to feature Michael Fassbender as the Dude, and Jennifer Lawrence in a supporting role. But Just for Laughs was also having a comedy show called the Sir Patrick Stewart Gala, which explains why Stewart was in the area.
Considering what we've heard about Sir Patrick Stewart's potential involvement in Wolverine 3, we wouldn't be surprised if maybe there's some kind of tease or cameo being planned to set up for that future film. Hugh Jackman just teased at Comic-Con that it could have some flares of the Old Man Logan comic book storyline, but we'll have to wait and see how that plays out.
Since X-Men: Apocalypse takes place in 1983, an appearance form Patrick Stewart as Professor X would need to involve either a flash forward, maybe in a memory that Wolverine has of the future, or time travel. Days of Future Past showed us that anything is possible, so either of those scenarios would make sense. Plus, since this might be Bryan Singer's last X-Men film, it would be nice to have him direct one last scene with Stewart.
But for now, we'll just have to assume that Patrick Stewart isn't in X-Men: Apocalypse. We also recently double confirmed that Ian McKellen wasn't appearing, which would still seem to count out the cast members from the original X-Men franchise. Though that same story confirmed Hugh Jackman would make an appearance, so round and round we go. But with Jackman, he's still actually part of the 1983 timeline, so that works with the narrative. Anyway, stay tuned to see what else we learn about X-Men: Apocalypse as more information becomes available.
X-Men: Apocalypse arrives on May 27th, 2016.