'Everest' Featurette: The Cast Experiences The Elements Of Nepal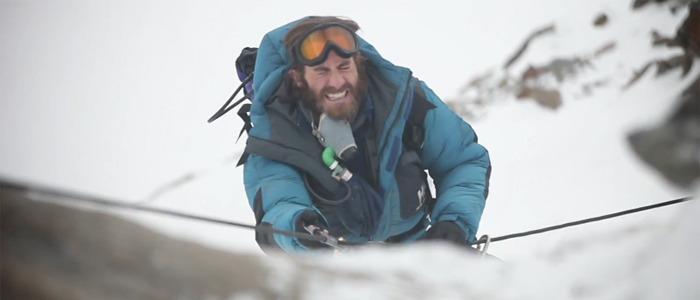 This fall brings the terrifying elements of the highest mountain on the planet to the big screen in the mountain climbing drama Everest starring Jason Clarke, Josh Brolin, John Hawkes, Jake Gyllenhaal and more.
While it would be easy to shoot an entire film like this on a sound stage and use visual effects to complete the scenery, director Baltasar Kormakur (2 Guns, Contraband) wanted the cast to experience the elements firsthand by shooting on location in Nepal on the foothills of Everest, as well as the Italian Alps. Now an Everest featurette shows what that was like for the stars of the film, and you can watch it below.
The featurette shines a light on the location shooting of the film. And at first it seems like shooting on a mountain isn't all that bad, with winds artificially created by giant fans to blow the snow in the faces of the characters. But then we learn that there were legitimate avalanche warnings, difficult weather, and even some sets that got buried by the snow. I can't even imagine what it's like to lug some of that IMAX equipment around on a damn mountain.
My only concern is that some of the on-location shooting is going to make some of the sequences shot on a soundstage look more artificial. There are some shots in the featurette and in the first trailer that don't look as real as they should, but maybe that's just because the effects aren't completely finished. We'll see if they've been improved when the film arrives on September 18th in traditional 2D and 3D theaters as well as IMAX 3D.
Inspired by the incredible events surrounding an attempt to reach the summit of the world's highest mountain, Everest documents the awe-inspiring journey of two different expeditions challenged beyond their limits by one of the fiercest snowstorms ever encountered by mankind. Their mettle tested by the harshest elements found on the planet, the climbers will face nearly impossible obstacles as a lifelong obsession becomes a breathtaking struggle for survival.
Everest is directed by Baltasar Kormákur (2 Guns, Contraband) and adapted for the screen by William Nicholson (Gladiator) and Oscar winner Simon Beaufoy (Slumdog Millionaire). The epic adventure stars Jason Clarke, Josh Brolin, John Hawkes, Robin Wright, Michael Kelly, Sam Worthington, Keira Knightley, Emily Watson and Jake Gyllenhaal.