The Lone Gunmen Are Also Returning To 'The X-Files'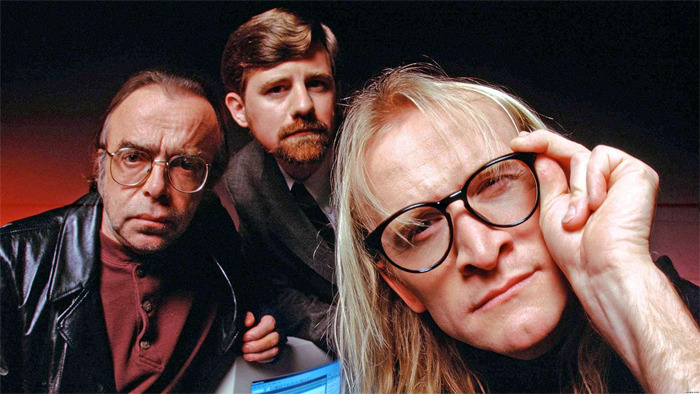 The revival of The X-Files coming to Fox in January just got a little more crowded with some familiar faces from the original run of the sci-fi series.
It's a no-brainer that David Duchovny and Gillian Anderson are back as Fox Mulder and Dana Scully, but otherwise the only other returning faces reported have been Mitch Pileggi as Walter Skinner and William B. Davis as Cigarette-Smoking Man. There have also been rumors of Annabeth Gish and Robert Patrick returning as agents Monica Reyes and John Doggett, but it hasn't been confirmed.
But now we have as close to official word as we can get that the trio known as The Lone Gunmen will also back back for The X-Files revival. Find out more about The Lone Gunmen returning to The X-Files after the jump!
Dean Haglund, Tom Braidwood and Bruce Harwood played the three conspiracy theorists, government watchdogs and computer hackers who helped out Mulder and Scully in no fewer than 38 episodes, not to mention the first big screen outing of The X-Files. And it was Haglund who confirmed that they would be back for the new round of episodes on Twitter:
yep, it's true. https://t.co/w718E0y6i8

— DEAN HAGLUND (@dhaglund) July 22, 2015
We're not sure if they'll be around for multiple episodes or if they'll just pop up in one of the six episodes in this initial return. But as fan favorites, there were plenty who hoped they would be back for the revival.
The Lone Gunmen actually had their own short-lived spin-off series in 2001 that only lasted 13 episodes before being canceled. After being canceled, they returned to The X-Files in the ninth season in a show appropriately titled Jump the Shark. The characters were actually killed off in that episode, though they did reappear in what was then the series finale as ghosts speaking to Mulder. So if they're dead, how are they back?
Well, one could say that in the mysterious world of The X-Files, death isn't necessarily certain. But the explanation actually lies in a comic book series that is considered canon as the 10th season of the show. Mulder learns that The Lone Gunmen faked their death and have actually been operating out of a secret underground base accessed by a staircase hidden under one of their graves. It's not clear if this explanation will be featured in the new episodes, but now you know why they aren't dead.
The Lone Gunmen join several other recent additions to the cast, including Robbie Amell and Lauren Ambrose as two new FBI agents, and comedian Kumail Nanjiani in a guest role as an animal control officer. We'll likely hear more names joining the series revival soon enough, so stay tuned.
Thirteen years after the original series run, the next mind-bending chapter of THE X-FILES will be a thrilling, six-episode event series helmed by creator/executive producer Chris Carter, with stars David Duchovny and Gillian Anderson re-inhabiting their roles as iconic FBI Agents FOX MULDER and DANA SCULLY. This marks the momentous return of the Emmy- and Golden Globe Award-winning pop culture phenomenon, which remains one of the longest-running sci-fi series in network television history. Production on THE X-FILES event series is underway now.
THE X-FILES originally premiered in September 1993. Over the course of its nine-season run, the influential series went from breakout sci-fi favorite to massive global hit, and became one of the most successful television dramas of all time. The show, which earned 16 Emmy Awards, five Golden Globes and a Peabody Award, follows FBI special agents Scully (Anderson) and Mulder (Duchovny), as they investigate unexplained cases – "X-Files" – for which the only answers involve paranormal phenomena.
The X-Files returns on January 24th.