'Knights Of The Round Table: King Arthur' Photos Reveal Charlie Hunnam And Excalibur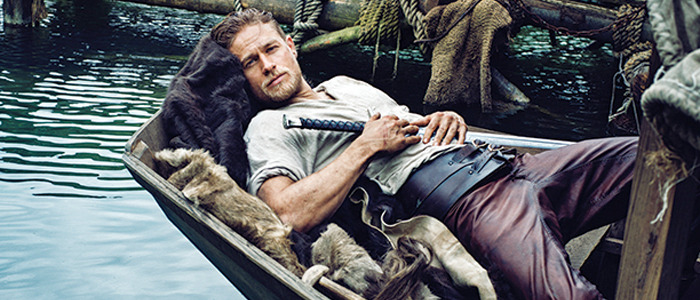 Next month brings Guy Ritchie's swinging spy action adventure The Man from U.N.C.L.E. (watch the trailer here), but the Snatch and Sherlock Holmes director is already busy on his next film, in a completely different time period yet again.
Knights of the Round Table: King Arthur is a new telling of the classic monarch legend, a 6th century king who has been said to have defended Britain against Saxon invaders. Pacific Rim and Sons of Anarchy star Charlie Hunnam plays the title role, and now some first look photos have just surfaced, showing off a rather gruff King Arthur and his trusty sword Excalibur.
See the King Arthur photos after the jump!
Below is the cover and one photo of Entertainment Weekly's King Arthur feature, but you'll have to check out their photo gallery for the rest of the images:
As you can see, this isn't the same King Arthur we've seen in previous medieval films. Director Guy Ritchie commented on why there hasn't really been a memorable movie about the king:
"I think where the pitfall has often been is trying to make King Arthur bland and nice, and nice and bland. The two qualities make rather compatible bed companions. Unfortunately, they're not interesting to watch. Luke Skywalker was always the most uninteresting character in Star Wars because he's the good guy. Good guys are boring."
That's a bit too broad of a generalization, but I understand what Ritchie is saying. Making King Arthur more than just a hero adds layers to the characters, so he's not just this beacon of goodness.. Hunnam explains how his Arthur is different:
"He's a little bit rough around the edges, but he's basically a survivor. He's a hustler. He's a street kid. There's definitely a harder edge to him than people would imagine. It's sort of classic Guy Ritchie stuff."
It sounds like this King Arthur adaptation will also dig deep into the fantasy elements of the legend, complete with massive snakes, huge war elephants (kind of like Lord of the Rings?) and some kind of "monstrous viking-like creature" known as The Nemesis. I'm jut glad Arthur will have more to fight than just another knight.
Knights of the Round Table: King Arthur also stars Astrid Gerbes-Frisbey as Guinevere, Jude Law as the film's villain, Eric Bana as Arthur's father, and Djimon Honsou as a Merlin-like mentor to Arthur.
Warner Bros. Pictures has the film scheduled to hit theaters next year on July 22nd, 2016, putting it up against the Ghostbusters reboot. This could be the start of a six-film franchise if all goes well, but the studio will likely wait to see how this one lands before proceeding with any follow-up plans.