Rumor: Who Is Playing Robin In 'Batman V. Superman: Dawn Of Justice'?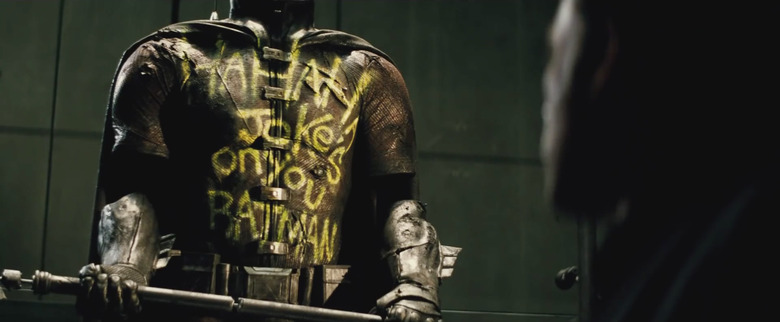 When the latest trailer for Batman v. Superman: Dawn of Justice was unleashed recently, many were blown away by the sight of Batman and Superman squaring off for the first time. But as we pointed out later, there are plenty of little things to notice that hint at what's coming in the forthcoming big screen battle.
One of the more surprising reveals in the trailer was what seemed to be confirmation that Batman's trusty sidekick Robin appears to be dead. The above shot from the trailer has a message, presumably from The Joker, written on Robin's suit, which appears to be in a display case as a memorial to The Boy Wonder. But fans have been wondering if we'll actually see Robin in action in some sort of flashback.
The answer appears to be yes, and a new rumor even tells us who might be wearing the suit in the flashback. Find out more about Robin in Batman v Superman after the jump, but beware of spoilers!
Heroic Hollywood (whose founder Umberto Gonzalez was just given a stirring profile in Grantland) reports that we'll definitely see Robin in a flashback scene in Batman v. Superman: Dawn of Justice where The Joker (Jared Leto) will be responsible for his death.
In addition, they're also reporting that it will be Eli Snyder, teenage son of director Zack Snyder, who will be playing Robin in this scene. The young Snyder is no stranger to starring in his father's films previously as he can also be seen as young Leonidas in 300 as well as young Rorschach in Watchmen. Set photographer Clay Enos seems to have noticed the rumor and teased fans with this photo of father and son on Instagram:
While the casting of Eli Snyder certainly makes sense, it also seems a little disappointing for fans who may have liked to see another known actor taking the role. This likely means that we won't be seeing any films about Batman's past anytime soon, otherwise the studio would have probably wanted a recognizable name as Robin instead.
Snyder certainly has a hero's physique though at 6'0" and 174 pounds, and it's not hard to envision him as Robin. That has to be quite a thrill for the young Snyder, who is also a starting quarterback at Maranatha High on the varsity team and is set to attend UCLA in the fall to study film, just like his father.
For now, consider this a rumor until we actually see Eli Snyder as Robin, which may not happen until Batman v. Superman: Dawn of Justice debuts in March. Otherwise, stay tuned for any updates on the developing DC Comics cinematic universe.