'Spectre' Bond Girls Reveal New Photos And Character Details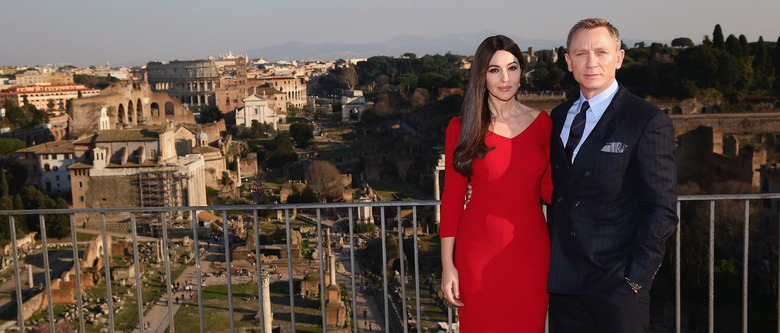 Every Bond movie's gotta have its Bond girls, and Spectre has four of them. Although maybe "Bond girls" isn't really the correct term here. "I don't consider myself a Bond girl," Léa Seydoux said back in February. "I think I'm not really the stereotyped Bond girl."
In any case, Spectre does have four kickass female characters, played by Seydoux, Monica Bellucci, Naomie Harris, and Stephanie Sigman, and today we have the opportunity to get to know them a little better. Get images and details on Bond's new female characters after the jump. 
USA Today debuted photos of the women of Spectre.
In the accompanying article, each of the women speaks about her character. Seydoux plays Madeleine Swann (as we already knew), a doctor and the daughter of an assassin. Bond "comes to find her, and she doesn't want anything to do with him," Seydoux explained. Well, at first, anyway.
Bellucci portrays Lucia Sciarra, the widow of a murdered Mafioso. "She comes from a man's world," Belluci said of her character. "But when the attraction between them takes place and she realizes her feminine power on him, then she trusts him to save her."
Sigman was a bit more mysterious about her character, Estrella — she wouldn't even reveal the character's last name. But she did dole out a few hints about her personality. "She's a lot like me," said Sigman. "We like to have fun and we're joyful people."
And finally, we already know Eve Moneypenny from Skyfall, but Harris explained the character's new role in Spectre. The events of the last film "made her reassess what she was doing as a profession and what she wanted to do with the rest of her life." said Harris. "[S]he wants to support in a different way. There's a maturity in that decision and a groundedness you see with her."
The Bond franchise has not, historically, been known for its generosity to female characters, but it's great to see that Spectre looks full of interesting, capable women. Especially considering that this Bond's longest-running female foil is no longer around (we'll miss you, Dame Judi).
Spectre opens November 6 in the U.S. and October 26 in the U.K., and stars a bunch of dudes as well including Ralph Fiennes, Ben Whishaw, Christoph Waltz, Andrew Scott, Dave Bautista, and of course, Daniel Craig. Sam Mendes directed.