'Ant-Man' Easter Egg: Did You Catch This Reference To The Original Live-Action Ant-Man?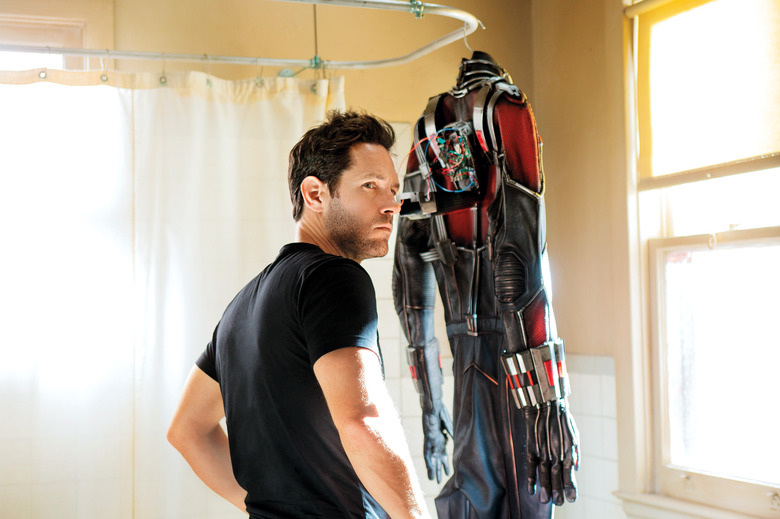 Ant-Man is the first and so far only feature film about the titular superhero, but it's not the first time the character has ever been portrayed onscreen. And if you paid close attention, you might've noticed that the film includes a nod to the very first live-action depiction of the character — from a Saturday Night Live sketch from 1979. Get all the details on the Ant-Man SNL Easter egg after the jump. 
As pointed out by Birth.Movies.Death., in the scene where he tries on the Ant-Man suit for the first time, Scott Lang (Paul Rudd) makes his way out of his apartment building and eventually lands on a cab parked outside. The confused driver inside first hears a ping, and then a louder thud as Scott reverts to his original size.
Well, said driver is played by Garrett Morris, the first guy ever to play Ant-Man. He portrayed the shrinking superhero for a Saturday Night Live skit called "Superhero Party," alongside Bill Murray as Superman, Dan Aykroyd as the Flash, John Belushi as the Hulk, and more. You can watch it below:
Poor Ant-Man. The Flash doesn't even recognize him at first, despite apparently having met Ant-Man several times. When the Flash finally does remember, he immediately turns Ant-Man into a joke he doesn't quite get. "I don't see what's so funny," Morris' Ant-Man protests. "Is there something wrong with being Ant-Man? I mean, what's the joke?"
At least our current Ant-Man doesn't have that problem. Scott Lang is perfectly aware of how absurd Ant-Man's powers are, although director Peyton Reed was careful not to let the character mock himself too much. To that end, he cut a line seen in the trailers, where Scott asks, "Is it too late to change the name?"
"I have no interest in a winky-winky movie that only exists to poke fun at itself," Reed told Film School Rejects. "You have to commit, or else an audience shouldn't be expected to. I feel like we commit whole-heartedly to the concept, and it's a weird concept." Based on the $58 million box office haul from this weekend, it doesn't look like audiences had too much trouble committing.