Comedian Kumail Nanjiani's Dreams Come True With A Role In 'The X-Files' Revival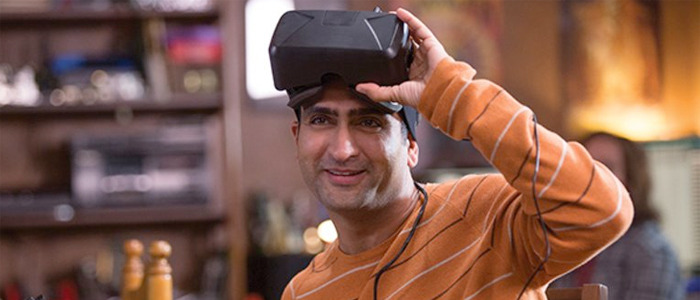 For fans of The X-Files, the return of their favorite series in January of 2016 is already fantastic enough. But one massive fan of the sci-fi series that launched in the 90s is even more excited, because he actually gets to be part of the revival with Mulder and Scully.
Comedian Kumail Nanjiani has been making waves with a series regular role on the HBO comedy series Silicon Valley, but he's also a very successful stand-up comedian with a podcast called The X-Files Files, which runs through each episode of the series one-by-one, talking about it with various guests from comedians to bloggers. Now he'll have a small role in one of the episodes of The X-Files event series coming next year.
Find out more about Kumail Nanjiani joining The X-Files after the jump!
It was Nanjiani who revealed the casting through a few excited posts on Twitter:
From the photos, it appears Nanjiani is playing an animal control officer, and he likely ends up interacting with Mulder (David Duchovny) and Scully (Gillian Anderson). I can only imagine how incredible it must be to suddenly be part of something you've loved for over 20 years.
Plot details haven't been revealed for the new series yet besdies the return of Mulder and Scully, as well as Mitch Pileggi as Walter Skinner). There have also been rumblings of William B. Davis returning as Cigarette-Smoking Man as well as Annabeth Gish and Robert Patrick as agents Monica Reyes and John Doggett, but this hasn't been confirmed.
Behind the scenes, writers and producers Chris Carter, Glen Morgan and Jim Wong will are all back to write and direct episodes in addition to producing responsibilities, and Frank Spotnitz has also been said to have a hand in the show, along with composer Mark Snow.
As for new cast members, Joel McHale is playing a conservative internet news host and Rhys Darby reportedly has some kind of role in the show as well. Since the return of The X-Files is still about six months away, we'll likely hear much more about guest stars and hopefully what this new round of episodes will focus on. In the meantime, there's some teaser footage and photos from the set to hold fans over.
If all goes well, fans might get to see even more new episodes of The X-Files, because Duchovny has already said that he's open to more episodes beyond this initial return, so this could just be the beginning. As someone who has only seen an episode of The X-Files here and there, I've been considering a run through the entire series on Netflix before it returns in January, and Fox probably hopes plenty of other non-fans do the same.
Thirteen years after the original series run, the next mind-bending chapter of THE X-FILES will be a thrilling, six-episode event series helmed by creator/executive producer Chris Carter, with stars David Duchovny and Gillian Anderson re-inhabiting their roles as iconic FBI Agents FOX MULDER and DANA SCULLY. This marks the momentous return of the Emmy- and Golden Globe Award-winning pop culture phenomenon, which remains one of the longest-running sci-fi series in network television history. Production on THE X-FILES event series is set to begin in summer 2015. THE X-FILES originally premiered in September 1993. Over the course of its nine-season run, the influential series went from breakout sci-fi favorite to massive global hit, and became one of the most successful television dramas of all time. The show, which earned 16 Emmy Awards, five Golden Globes and a Peabody Award, follows FBI special agents Scully (Anderson) and Mulder (Duchovny), as they investigate unexplained cases – "X-Files" – for which the only answers involve paranormal phenomena.
The X-Files returns on January 24th.