Watch Johnny Depp Bring Captain Jack Sparrow To An Australian Children's Hospital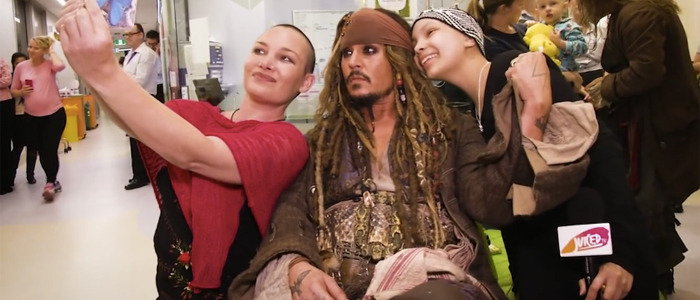 The internet has been rather charmed in the past by the charitable activities of Marvel Studios' stars Chris Pratt and Chris Evans, stopping by a couple children's hospitals as Star-Lord and Captain America respectively. But now another iconic Disney actor has been captured using his stardom to bring joy to some kids who need it the most.
Johnny Depp took a break from filming Pirates of the Caribbean: Dead Men Tell No Tales to stop by Lady Cilento Children's Hospital in Brisbane, Australia in full wardrobe as Captain Jack Sparrow. And thankfully, an Australian children's show was there to film some of the adorable antics of the perpetually drunk pirate interacting with the kids.
Watch when Johnny Depp visits a children's hospital as Jack Sparrow after the jump!
Thanks to Juiced TV (via The AV Club) for this heartwarming video segment:
The visit was put together by the Children's Hospital Foundation, who actually produces the children's show Juiced TV which is "made by the kids in hospital, for the kids in hospital." That's seriously one of the coolest things ever.
Now one could make some snide remarks about Johnny Depp trying to suck up to Australia for his recent mishap with illegally flying his dogs to the continent, but try to be that cynical when you see the smiles and laughs on the faces of these kids in the hospital. They're loving every minute of Captain Jack Sparrow, brought to life perfectly by Depp's impeccable improvising skills.
My personal favorite moment comes when a couple of patients take a selfie with Sparrow and he asks what any pirate would want to know, "Now, if there's other people in it, why do you call it a selfie?" Even a drunk, clumsy pirate can't let that one slide.
Johnny Depp may be getting bashed lately, mostly because of the disaster that was Mortdecai and audiences who may not think we need a new Pirates of the Caribbean movie, but it's hard to take shots at the guy when he does stuff like this. Nicely done, Captain Jack.