Cool Stuff: Sink Your Teeth Into These New 'Jaws' Shirts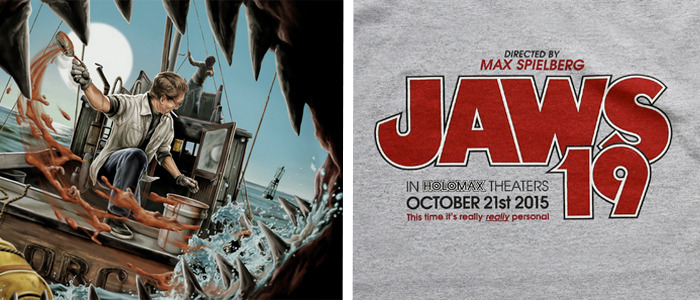 This year marked the 40th anniversary of Steven Spielberg's classic thriller Jaws, one of the greatest blockbusters of all-time (actually, the first blockbuster in cinema's history). Seeing the film in theaters again this year was a special treat, reminding me just how incredible a movie with a simple premise can be. It's a master class in filmmaking.
And if you're a big fan of Jaws, then you're probably always eager to show off your love for the flick. And now some new t-shirts from Fright Rags and Last Exit to Nowhere have made it infinitely easier to do that. Check out the new Jaws shirts after the jump!
First up, the masters of subtle pop culture t-shirts at Last Exit to Nowhere have created this awesome shirt for Jaws 19: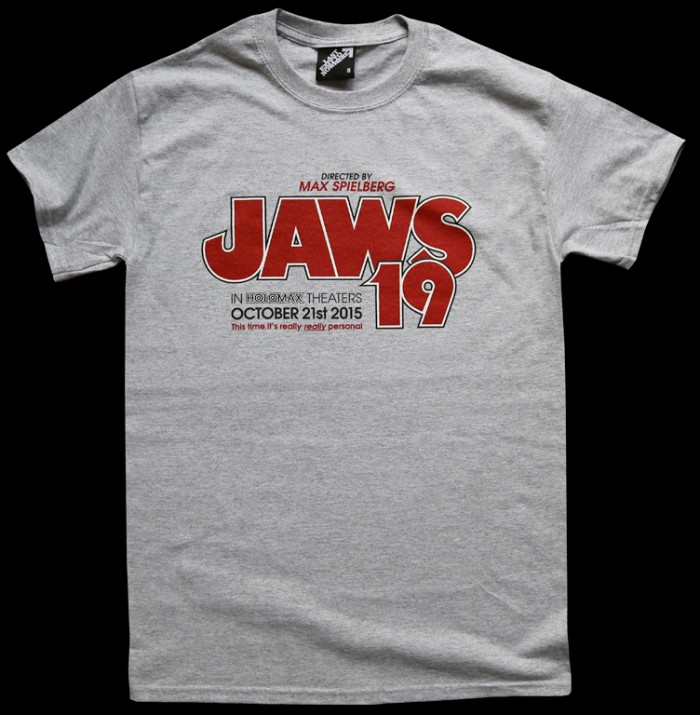 Technically this is more of a Back to the Future Part II shirt (the original film is also celebrating an anniversary this year, and the whole trilogy will be returning to theaters in the fall, along with an all-new Blu-Ray set in a Flux Capacitor). But since it's for a fictional sequel to the classic Jaws, directed by Steven Spielberg's son Max Spielberg and slated to arrive in theaters this year, it's the perfect time to show it off.
It's available for purchase immediately at the above link, and you'll want to check out all the rest of the amazing shirts they have that reference plenty of movies and TV shows you love. But if you're a more traditional Jaws fans, here's the new shirts you can get over at Fright Rags (via Daily Dead), including one that comes with a shark mask:
That image of the shark-shaped smoke rising from the wrecked remains of The Orca is fantastic, but I wish it wasn't surrounded in a faded black rectangle and blended into the rest of the shirt more seamlessly. Still, the designs on all the shirts are pretty cool, and much better than just having the title lazily slapped on the front of a shirt (except for maybe that last one).
These shirts are very new, so they're only available for pre-order right now, and they'll ship sometime in late August. The anniversary celebration for Jaws seems to be a little more low key than for Back to the Future (another film with Spielberg ties), but if any other cool stuff from the classic surfaces, we'll be sure to let you know.