Paul Feig Reveals Character Names For The New 'Ghostbusters'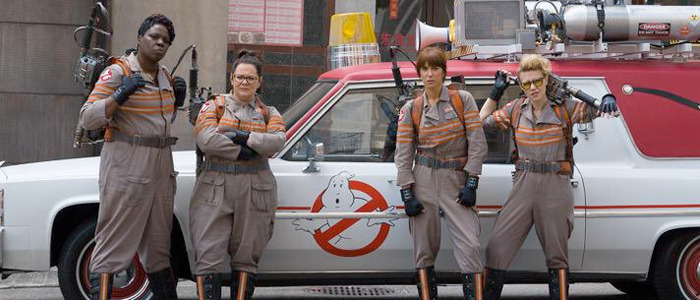 Director Paul Feig has been revealing quite a bit from his forthcoming Ghostbusters reboot that's currently shooting in New York City. We've already seen the new proton packs (with added specs to help cosplayers), the new Ecto-1, and a shot of Melissa McCarthy, Kristen Wiig, Kate McKinnon and Leslie Jones all suited up and ready to bust ghosts.
But we still didn't know what characters the ladies were playing. That changed yesterday when Feig replied to a request to reveal the character names on Twitter from a Ghostsbusters fan and charity organization. Find out the new Ghostbusters character names after the jump!
Here's what Feig wrote on Twitter:
Okay, here you go. Erin Gilbert, Jillian Holtzmann, Abby Yates and Patty Tolan. Now you know even more. https://t.co/MsQVo5iStI

— Paul Feig (@paulfeig) July 18, 2015
Unfortunately, he didn't match the names with each actress, but thanks to set photos that have glimpses of the nametags on each of the jumpsuits, fans have been able to determine who is playing who very quickly. Melissa McCarthy is Abby Yates, Kristen Wiig is Erin Gilbert, Kate McKinnon is Jillian Holtzmann and Leslie Jones is Patty Tolan.
Some fans have been trying to match up the new characters with the original Ghostbusters, Peter Venkman (Bill Murray), Ray Stantz (Dan Aykroyd), Egon Spenger (Harold Ramis) and Winston Zeddemore (Ernie Hudson). However, we have to keep in mind that this is a Ghostbusters reboot, and not a straight-up remake. So these characters won't have the exactsame traits as the original team.
As for the supporting cast, we already know some details about their characters. Andy Garcia is playing the mayor of New York City, Michael K. Williams is a character named Hawkins, Matt Walsh is a character named Rourke (I could easily see him working for the mayor), Chris Hemsworth is the new secretary for the Ghostbusters, and Saturday Night Live writer Neil Casey is the film's villain. And let's not forget that Dan Ayrkoyd also confirmed that he'll have a cameo in the film in a scene with Kristen Wiig.
Honestly, as someone who is a massive Ghostbusters fan (I have an entire wall with action figures and original artwork), this is something that I'm not very worried about anymore. As with any reboot or remake, a new take on the material won't take away from how much I love the original movies. Furthermore, after finally seeing how surprisingly good and funny Spy was earlier this summer, I think Feig can pull this off.
Ghostbusters arrives next summer on July 22nd, 2016.