Entire 'Back To The Future' Trilogy Returning To Theaters In October For 30th Anniversary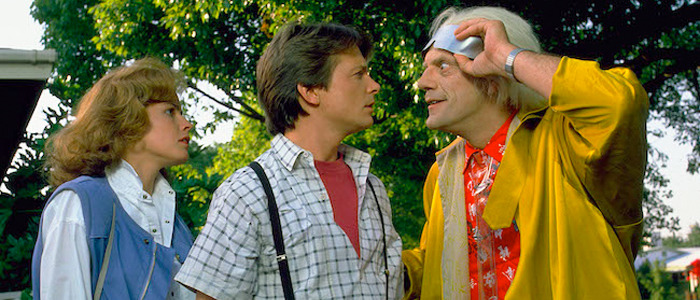 Just yesterday, we brought news of a new Blu-Ray release for the Back to the Future trilogy, including a set with the entire animated series from the 90s, for the first film's 30th anniversary. Appropriately, the new Blu-Ray set arrives October 21st, 2015, the same day Marty McFly and Doc Brown traveled to the future in Back to the Future Part II.
It turns out that won't be the only way you can celebrate the classic time travel trilogy, because buried in a press release for the new Blu-Ray set is word that the entire Back to the Future trilogy will also be returning to theaters that same day. And there's another cool item fans will want to pick up this fall as well.
Find out more about the Back to the Future trilogy in theaters after the jump!
Since the release is still three months away, specifics on where the Back to the Future trilogy will be screening have not been revealed. The press release merely says to "Check local listings for show times," so we'll have to wait for more information on that front. But previously only the original film had been re-released for anniversary screenings, so this is pretty cool.
Something else we'll have to wait for more details on is a new picture disc vinyl soundtrack release for Back to the Future, which will be available on October 16th. We'll likely get to see the artwork for that as the release gets closer.
But if you're really craving some Back to the Future this weekend, AMC is having a marathon of all three films in honor of the 30th anniversary. So if you're one of those people who doesn't own the movies for some reason, and you just like to watch them on television, then this Sunday, July 19th is your day. Here's the schedule for the marathon on AMC this weekend:
SUNDAY, JULY 19th
"Back to the Future" at 11:00 a.m. ET/PTTeenager Marty McFly is sent back in time to 1955, where meets his future parents in high school
and accidentally becomes his mother's romantic interest. Marty must repair the damage to history by causing his parents-to-be to fall in love, and with the help of eccentric scientist Dr. Emmett "Doc" Brown (Lloyd), he must find a way to return to 1985."Back to the Future II" at 1:30 p.m. ET/PTMcFly and Dr. Emmett "Doc" Brown travel to 2015 to prevent McFly's future son from ending up imprisoned. However, their presence allows Biff Tannen (Wilson) to steal Doc's DeLorean time machine and travel to 1955, where he alters history by making his younger self wealthy."Back to the Future III" at 4:00 p.m. ET/PTWhile stranded in 1955 during his time travel adventures, Marty McFly discovers that Dr. Emmett "Doc" Brown, trapped in 1885, was killed by Biff Tannen's great-grandfather Buford. Marty decides to travel to 1885 to rescue Doc."Back to the Future" at 6:30 p.m. ET/PTEncore showing.
All this leads up to the premiere of AMC's new eight-part sci-fi drama series Humans, which will begin at 9pm Eastern that night. You can check out the trailer for that new series right here.
Otherwise, stay tuned for details on all the forthcoming Back to the Future 30th anniversary celebratory releases coming later this year (like the Hot Toys version of the DeLorean and Marty McFly from Back to the Future Part II). As a huge fan of the trilogy, I know I'll be on the lookout for whatever I can get my hands on.