'7 Chinese Brothers' Trailer: Jason Schwartzman Has Some Growing Up To Do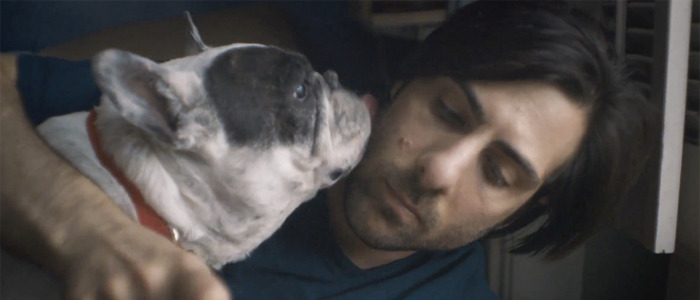 After premiering at SXSW earlier this year, the indie comedy 7 Chinese Brothers will put Jason Schwartzman (Rushmore, Moonrise Kingdom, Scott Pilgrim vs. The world) back into unlikeable mode next month. But thankfully, he doesn't seem to be anywhere near the arrogant prick that he played in the Sundance selected Listen Up Philip.
This time the Wes Anderson favorite plays Larry, a slacker bartender who was just fired for drinking on the job (he favors the drink anytime really). But he might be able to turn things around when he gets a job at a nearby tire and lube shop, even though he doesn't really have the skills to complete his everyday tasks.
Watch the 7 Chinese Brothers trailer after the jump!
It's not clear what the title means after watching the trailer (via Fandango), but it will likely be explained at some point in the story. Maybe it references the song of the same name by R.E.M.? I suppose you'll have to watch the movie.
This looks like a charming, coming-of-age sort of indie with Schwartzman's character likely learning a little about himself in the process of pining for his boss (Eleanore Pienta) and trying to become a "gooder, better person." With the incessant drinking angle, I wonder if this will be like Jason Schwarztman's own middle aged version of The Spectacular Now, but without the teenage angst.
Also, it seems important to point out that the adorable dog in this movie is none other than Schwartzman's real life dog Arrow, which explains why he loves him so much in the trailer.
In addition to Schwartzman in the lead role, this one also has an interesting supporting cast with Tunde Adebimpe, Stephen Root, Olympia Dukakis, and Alex Karpovsky. Writing and directing is Bob Byington (Somebody Up There Likes Me), and the film is slated to hit limited theaters this summer on August 28th.
In "7 Chinese Brothers," Jason Schwartzman (Listen Up Philip, Scott Pilgrim vs. the World) portrays Larry, an inebriated sad sack who rides a tide of booze onto the shores of an undiscriminating Quick-Lube. The only bright spot is probably his boss, Lupe (Eleanore Pienta). Will Larry keep it together long enough to win the girl, provide for his French bulldog, laze about with his friend Major (TV on the Radio's Tunde Adebimpe), and do his cantankerous grandmother (Olympia Dukakis) proud?
Anyone out there interested in 7 Chinese Brothers?