Stephen Amell Says Casey Jones Has A Different Origin Story In 'Ninja Turtles 2'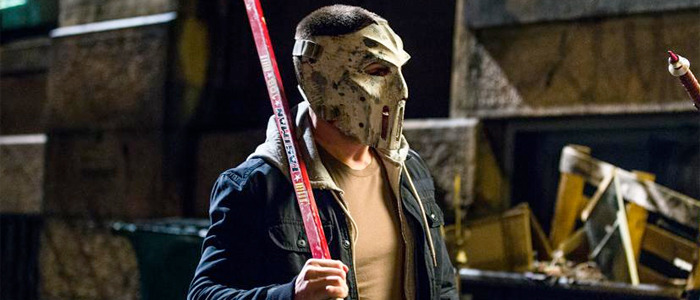 For fans who may have disappointed in last year's reboot of Teenage Mutant Ninja Turtles, the studio is hoping you'll give them a second chance, and they're including some fan favorite characters to help get butts back in the seats.
Bebop (Gary Anthony Williams) and Rocksteady (Stephen Farrelly) will be appearing in the sequel, but the real draw in Teenage Mutant Ninja Turtles 2 is Arrow star Stephen Amell as vigilante Casey Jones, an ally of our heroes in a half-shell. But while fans may be excited to see the hockey-masked crime fighter in action again, Amell says that this version of Casey Jones is a little different than you might expect.
Find our more about the new Casey Jones origin story after the jump!
Speaking with IGN recently, here's what Amell had to say about his version of Casey Jones:
"It's certainly not your father's or your younger self's Casey Jones, but that's because we meet him at a very different time in his development. He is not the Casey Jones that a lot of comic fans have come to know and love. He is a guy with a job that lives in New York and loves hockey. When things go awry, [and] when he goes through the normal methods of what someone would do when they're [a] law-abiding citizen and he's met with laughter and scorn... he decides to take things into his own hands."
Another key difference comes in the form of a slick ride for Casey Jones too. Amell revealed what the character will be driving in Teenage Mutant Ninja Turtles 2 in a picture from the set of the movie posted on the actor's Facebook page:
That's a Dodge Hellcat Challenger, which is a pretty fine machine for someone who drives around New York City wearing a hockey mask and fighting crime. And it's not the only vehicle we've seen from the movie since pictures of a garbage truck that will be driven by the turtles surfaced online back in April along with a Polaris Slingshot that will also come in handy.
Considering how disappointed I was in the reboot of Teenage Mutant Ninja Turtles last year, I don't have much hope for the sequel. The inclusion of fan favorite characters just feels forced in order win fans over and get them interested in a sequel even after hating the first movie. But maybe Earth to Echo director Dave Green can bring something new to the table and make it work. Of course, with a script form André Nemec and Josh Appelbaum again, that doesn't seem likely.
Will Arnett and Megan Fox also star in Teenage Mutant Ninja Turtles 2, reprising their roles as Vernon Fenwick and April O'Neil, while new cast members include Alessandra Ambrosio as herself and Tyler Perry as Baxter Stockman, not to mention Brian Tee as a new Shredder and Laura Linney in an unknown role. And of course Pete Ploszek, Noel Fisher, Alan Ritchson, and Jeremy Howard return as turtles Leonardo, Michelangelo, Raphael, and Donatello.Teenage Mutant Ninja Turtles 2 arrives on June 3rd, 2016.