Cool Stuff: Custom Transforming Optimus Prime LEGO Set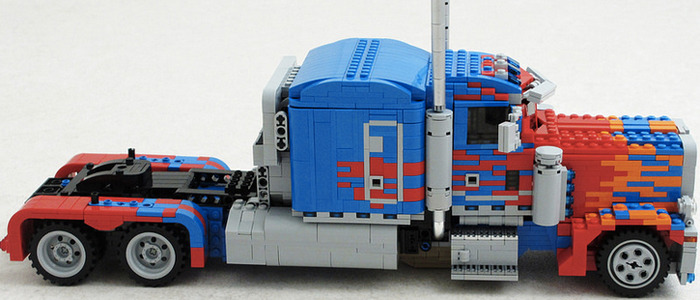 While Hasbro's Transformers are some of the most popular toys on the planet, and have been since the 1980s, the Autobots and Decepticons have yet to roll out in LEGO form. But one LEGO fan has changed that.
LEGO Master Builder and Flickr user Savelsberg has created a LEGO version of the iconic Autobot leader Optimus Prime, who usually turns into a semi-truck. And while you might expect this to just be a LEGO version of the truck form of Optimus Prime, believe it or not, this custom LEGO creation actually turns into the robot form of the Transformer.
Check out the LEGO Optimus Prime after the jump!
Here's some photos of the custom LEGO Optimus Prime from Flickr (via Gizmodo):
The creator explains that he used the Battleblades Transformers version of Optimus Prime as reference for this creation. And while this LEGO version does indeed transform from truck to walking, talking robot, he adds that the process is "horrendously complicated and awkward and some bits will inevitably fall off in the process." At some point he hopes to "add a more Technic structure to it." That explains why this isn't on a LEGO Ideas page just yet.
Considering all the toys in the Transformers line available to buy, it's surprising Habsro hasn't turned their profitable heroes into LEGO form yet. I suppose having Transformers that make it very difficult to live up to the name of what the toys are supposed to do isn't all that appealing to Hasbro or LEGO at this point. But if somehow Savelsberg is able to crack it, surely fans would like to see this one hit shelves at some point in the future, and maybe a Bumblebee too. So Transformers fans will just have to be patient for the time being.