LOL: 'Comic-Con: The Musical' Hits All The Geeky Notes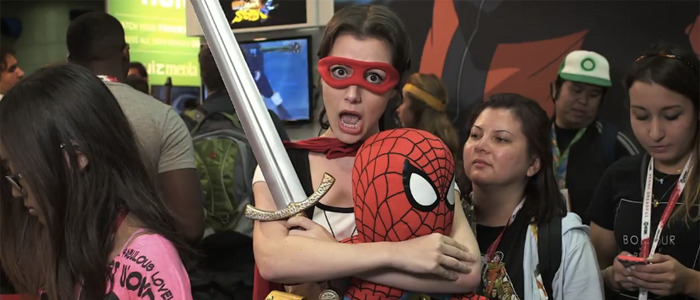 We're fresh off finishing yet another Comic-Con in San Diego, and I'd be lying if I said I wasn't still exhausted from the whole ordeal. From waiting in lines, to the uncomfortable chairs in Hall H, to waiting in lines, the anxiety of getting into Hall H, also waiting in lines, plus all the energy spent on cheering and clapping in Hal H. It's an endurance trial.
If you've never experienced Comic-Con for yourself, the folks at Nerdist have put together a lovely, funny, melodic little short called Comic-Con: The Musical, and it's a pretty accurate representation of the geeky madness in San Diego.
Watch Comic Con The Musical after the jump!
Set to the catchy tune of "Belle" from Disney's Beauty and the Beast soundtrack, this is an adorable and wonderful depiction of what every single Comic-Con attendee goes through in just four or five days.
What's truly impressive about this video is that it was made at this year's Comic-Con, with some pretty decent production quality, and right in the middle of the busy convention.
In the video you can see a bag promoting Fox's series Gotham (it's mentioned in the song) as well as that foam Ash vs. Evil Dead chainsaw. And there's even hope for a Star Wars trailer (which we didn't get) and an autograph on Whitney Avalon's boob from Ben Affleck (which we're not sure if she got). Oh, and there's also the waiting in a hundred million other lines. Seriously, you don't even want to know how much waiting in line there is.
My compliments to all the impressive cosplayers in this video too, from the Doof Warrior from Mad Max: Fury Road to various steampunk, who all make Comic-Con so fun to experience. Everywhere you look there's an awesome costume to snap a picture of, and next year, I just might be on the lookout for Whitney Avalon lip syncing around the show floor as well. Nice work, Nerdist. Let's see if you can top it next year.